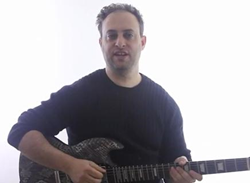 Today I want to talk about metal riffs with drop D tuning
(PRWEB) October 22, 2014
"Today I want to talk about metal riffs with drop D tuning," says Johnson. "Drop D means that I have taken my low E string and I have tuned it down to a D." Claude demonstrates how to do this by matching the pitch of the 4th string, D, to the 6th string by ear. Claude explains that the advantage of this for metal is that you can play power chords (root and fifth) with a single finger by playing the 6th and 5th strings on the same fret at the same time with one finger."
Johnson continues this easy beginner metal rhythm guitar lesson by playing a variety of riffs based on the single finger power chords using the techniques of palm muting and playing rhythms based in triplets, which are referred to by metal guitarists as "chugging."
"I am not really a metal guy," says Johnson. "I do not play a lot of metal, but if we have some great metal teachers." For more information as well as great metal instruction like this, head on over to GuitarControl.com/Metal.
Palm muting is a playing technique for guitar and bass guitar, executed by placing the side of the picking hand very close to the bridge, and then picking the strings while the dampening is in effect.
Claude Johnson
Claude Johnson, a native of Philadelphia, PA, began playing guitar in 1990 after being inspired by players like Jimi Hendrix, Eric Clapton, and Stevie Ray Vaughn. He is the creator of GuitarControl.com and has helped 1000s of people to learn to play the guitar with his critically acclaimed instructional DVD courses, all available at GuitarControl.com
About GuitarControl.com
GuitarControl.com is the leader in modern guitar instruction. It's packed with resources including articles, video lessons, and the best videos in the business for the beginner to the advanced guitar student taught by the best instructors out there. Weather you are into the blues, rock, jazz, metal, folk, or anything in between, they have you covered.