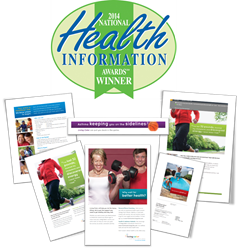 Strong, effective communications enable workplace wellness programs to achieve greater participation, impact and return on investment.
Farmington, CT (PRWEB) October 22, 2014
Nurtur, the health and wellness company serving employers, health plans and government programs, is proud to receive Gold recognition in the 21st Annual National Health Information Awards SM (NHIA). This national program, organized by the Health Information Resource Center (HIRC), recognizes the best consumer health information programs and materials.
As more organizations and workplaces seek to improve the health of their employees or members, and lower healthcare costs, their success depends on the efficacy of their wellness programs. Heath coaching is a critical component in helping people achieve sustained behavior change. The Health Coaching Engagement campaign created by the Member Communications team at Nurtur is designed to engage and motivate people to take that next step and actively participate in health coaching. Components incorporate multiple media and delivery methods to reinforce messaging and support an ongoing commitment to change behavior.
Components of Nurtur's award-winning campaign include:

Posters
Intranet banners
HTML email
Quick Start Flyer
Coaching Postcards
NIHA submissions are judged by a panel of consumer health experts from across the nation based on content, format, success in reaching the targeted audience and overall quality. Gold is the highest award presented in each category and represents the top 5 percent of all entries.
"We are honored to be recognized once again for the quality of our member communication materials by NHIA judges," said Dr. Jeremy Corbett, Chief Health Officer at Nurtur. "Strong, effective communications enable workplace wellness programs to achieve greater participation, impact and return on investment."
The National Health Information Awards is the most competitive award program of its kind. According to Patricia Henze, Executive Director of the Health Information Resource Center, "These awards set an industry standard of quality for consumer health materials, and this 'seal of quality' helps health professionals find the best consumer health information resources for their programs."
About Nurtur: Nurtur is the behavior change company dedicated to helping individuals improve their health and well-being. The company offers wellness programs and health coaching to educate, enable and motivate people at all life stages to address the life issues that get in the way of health as well as the health issues that complicate living. Nurtur life and health management programs include analytics, wellness, disease management (including back pain, depression, diabetes, heart disease and respiratory disease), episodic/catastrophic care management, and work-life resource and referral. The company provides services to multiple market segments including large employers, unions, health plans, and state and government agencies.
###