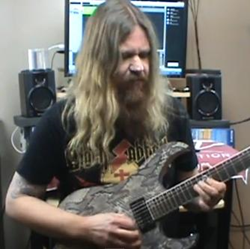 (PRWEB) October 22, 2014
Darrin starts off this easy blues guitar lesson by demonstrating a basic shuffle rhythm in the key of A as follows; open 5th string and 2nd fret of the 4th string with first finger strummed simultaneously twice as 1/8th notes (1 & 2 &). Next Darrin frets the 4th fret of the 4th string with 3rd finger and strums the open 5th string with the 4th string simultaneously as 1/8th notes again (3 & 4 &). Darrin continues by playing the shuffle rhythm for one whole measure and then playing some bluesy licks based out of the minor pentatonic scale for one whole measure. Goodman repeats this idea over and over again playing different licks each time and suggests using a metronome to keep time, which he uses in the video. Darrin continues by demonstrating how to play this concept over a 12 bar blues 1-4-5 chord progression in the key of E. Guitar TAB's are available for this easy blues rhythm guitar lesson at GuitarControl.com.
A metronome is a device that produces audible "clicks" that are measured in beats per minute that helps musicians keep in time. The metronome dates back to the 19th century when it was patented by Johann Maelzel in 1815.
The Pentatonic Scale is a musical scale with five notes per octave. They can be found all over the world and are the main scale used in the Blues genre.
Darrin Goodman
Darrin Goodman, a native of Ogden Utah, began playing guitar at the age of 12 after hearing KISS at an earlier age. Darrin has been a local finalist for the King of the Blues contest and is the lead guitarist of international recording artist Sonic Prophecy who has performed with artists such as Accept, Sabaton Cinderella and Ratt. Darrin has been teaching private lessons to 30 to 60 students a week from his home studio since 1987.
About GuitarControl.com
GuitarControl.com is the leader in modern guitar instruction. It's packed with recourses including articles, video lessons, and the best videos in the business for the beginner to the advanced guitar student taught by the best instructors out there. Weather you are into the blues, rock, jazz, metal, folk, or anything in between, they have you covered.