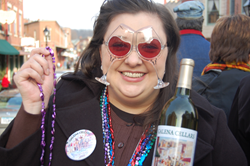 Galena, IL (PRWEB) October 28, 2014
"Le Beaujolais nouveau est arrivé!" Simply translated, "Wine lovers: get ready, get set, go!" The third Thursday of November marks the annual release of Beaujolais Nouveau and the opportunity to be among the first to sample the new, shortly fermented wine, previewing the current year's fall harvest.
In France, this tradition began well over a century ago. In Galena, Illinois, it kicked off at the hands of Galena Cellars Vineyard & Winery in 1985. Today, it's grown to be a full-blown community celebration inviting epicureans of all levels to enjoy all things wine.
The weekend officially kicks off at noon on Friday, November 21 as the Nouveau is officially released with a toast. Many area restaurants celebrate by offering traditional French stew and wine-inspired lunches. At 2:30 pm, the familiar "clip clop" of horse hooves will be heard throughout Galena's downtown. On board the horse-drawn wagons sporting revelers is a celebrated guest that will have the entire town in merriment all weekend—Galena Cellars' 2014 Nouveau wine. The specially commissioned Nouveau wine label and collector's poster by artist Beth Bird will also be unveiled.
Local restaurants continue the celebration with live music, wine tasting, dinner specials and receptions. Throughout the weekend, wine lovers can also enjoy vineyard tours (Galena boasts three area vineyards), winemaker dinners, wine-inspired pampering such as spa and shopping specials and lodging packages.
Raise your glass, and let the adventure begin!
Galena Cellars Vineyard, established in 1990 in rural Galena, Illinois, is home to 22 different specialty grapes, many of which are hybrids developed by universities throughout the country in an effort to create a vine and grape with the hardiness needed to grow in this region. The vineyard is open to the public year round (season winter hours) for tours, tastings and special events.
Galena is home to one of "America's Best Main Streets" (Fodor's Travel). For more information on Galena and the surrounding area, go to http://www.VisitGalena.org or call 888.942.5362. While in town, stop by the Welcome Center in the Old Market House, 123 N.Commerce St., Galena IL 61036.