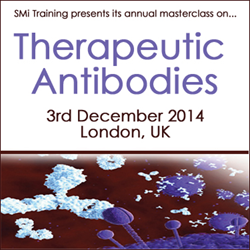 (PRWEB UK) 22 October 2014
Antibodies are gaining a dominant role in the treatment of many life-threatening situations like cancer or autoimmune diseases due to their excellent safety/efficacy profile compared to other, conventional drugs. This masterclass will provide an introduction to therapeutic antibodies, pitfalls to be avoided in their development and strategies for their state-of-the-art design. In addition to the description of the current status new emerging developments and trends will be highlighted.
Key Benefits of attending:

Understand the contextual backdrop to the therapeutic antibody industry
Discuss the latest generation of antibodies and their features
Learn from the advice offered and apply to your own projects
Who should attend:
Persons working for Biotech, Big Pharma, CMOs, Analytical Service Providers: Scientific staff in the fields of Discovery, Protein Engineering, Protein Analytics, Bioanalytics, Assay Development (Group+Lab Heads, Scientists of all levels), Ab-Project leader, Regulatory Managers, QA/QC.
For more information on the workshop or to register, please go to http://www.smi-online.co.uk/2014therapeutic-antibodies8.asp
Alternatively, contact Fateja Begum on tel: +44 (0) 20 7827 6184 or email: fbegum(at)smi-online(dot)co(dot)uk