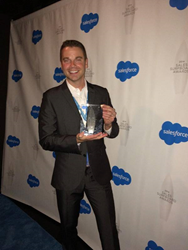 Atlanta, Georgia (PRWEB) October 23, 2014
Mediacurrent, a leading Drupal and digital web agency, has announced that they have been named the 2014 Best Overall SMB by Salesforce. The award celebrates the best overall marketing and sales story at the SMB level (1-100 employees). Over 100,000 companies use Salesforce, and hundreds of nominations were submitted for the Salesforce Surfboard awards.
"Winning the Best Overall SMB Award from Salesforce is tremendous validation to our team's incredible amount of hard work over the last few years in digital marketing and sales excellence. We wanted to create a more inbound marketing driven culture and it is extremely humbling to win such prestigious recognition from an industry giant like Salesforce," says Mediacurrent Partner, Dave Terry.
Below are just a few highlights from Mediacurrent's digital marketing success over the past year:
53% increase in organic searching resulting in more whitepaper and eBook downloads
Featured case study in popular book "Marketing Automation for Dummies"
40% increase in Mediacurrent regular e-mail subscribers in six months
23% increase in leads assigned to the sales team
129% year-over-year growth in content conversions
Closing on 55% of viable leads
"We want to congratulate Mediacurrent on its Salesforce.com Best Overall SMB Award. This recognition is a testament to Mediacurrent's success and innovation in the areas of marketing automation and lead generation. Mediacurrent has proven to be a thought leader in the Salesforce.com product suite and is transforming their business in entirely new ways." Mathew Sweezey, Marketing Evangelist at Salesforce.com
About Mediacurrent
Mediacurrent helps organizations architect highly impactful, results-driven Drupal websites. Home to an elite team of web specialists and thought leaders, Mediacurrent is known for their successful track record of launching large-scale digital properties. Recently they have helped some of the most name recognizable brands in the world adopt Drupal including The Weather Channel, Turner Broadcasting, and Emory University. Mediacurrent's service offerings allow them to be a single source partner for Drupal development, design, digital strategy, and training. More information about their Drupal service offerings is available at http://www.Mediacurrent.com.