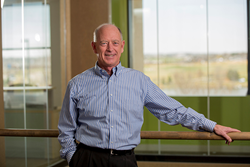 Omaha, Nebraska (PRWEB) October 23, 2014
Prairie Ventures, a private investment fund headquartered in Omaha, NE, announces Craig Tuttle as President. In his role, Tuttle will lead the organization to connect entrepreneurs and investors for early stage and growth stage enterprises with a focus on healthcare technology. He will also be responsible for managing the current portfolio of investments and the growth of the existing operating companies.
"I am truly excited to take on this responsibility for Prairie Ventures. With a rich history in successful investing, and the development of our second fund targeting investments in healthcare technology, I am confident that we will generate very attractive returns. There is a great team in place here at Prairie Ventures and an expanding ecosystem of entrepreneurs and high-growth opportunities in the Midwest that we will able to capitalize on through our investments," said Craig.
"His extensive experience with established businesses and startups in the biotech and diagnostic industry is a perfect fit with Prairie Ventures' vision of finding, growing and producing untapped business technology concepts while creating successful outcomes for investors and entrepreneurs," said Rod Markin, Co-founder of Prairie Ventures.
Craig Tuttle, M.S., MBA, is a diagnostic and biotech industry specialist with deep experience in genomics, genomic laboratory operations, molecular diagnostics and diagnostic product commercialization. He has a lengthy history in running high-growth diagnostic or laboratory companies along with keen insights into today's fast paced technologies and their successful implementation. He has consulted for several venture capital and private equity firms for value assessments of new product design, commercialization risk and technology competitiveness across several disease disciplines including Cardiology, Neurology, Infectious Diseases and, in particular, Oncology.
Mr. Tuttle also served as President of Duke Scientific, a diagnostic and specialty chemicals company that he sold to Fisher Healthcare (now ThermoFisher), and President of both Applied Biotech, Inc. and Seradyn, Inc. within the Apogent group (also now ThermoFisher). Mr. Tuttle was recognized in 2013 by the Governor of Nebraska winning its Bioscience Award, Fisher Healthcare's Vendor of the Year and other service awards.
About Prairie Ventures
Founded in 2000, Prairie Ventures is a private investment fund with investments in healthcare technology and services, real estate, banking, consumer goods and services, and non-healthcare information technologies. Prairie Ventures also operates an incubator in Omaha to provide services and infrastructure to emerging companies. For more information please visit http://www.prairieventures.net.