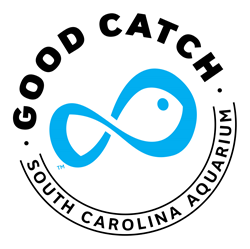 Charleston, S.C. (PRWEB) October 22, 2014
Local oysters are back in season and on the menu for the first South Carolina Aquarium Good Catch dinner at Fleet Landing Restaurant. Executive Chef Drew Hedlund's four-course dinner, with wine pairings, kicks-off with some delectable Lady's Island Oysters. The dinner, which is the first in the Good Catch dinner series, is taking place Monday, Oct. 27, at 6 p.m.
Offerings include:

Southern oysters Rockefeller featuring Lady's Island Oysters paired with Joel Gott Sauvignon Blanc, California
Grilled amberjack and Heirloom tomato tart with pistou paired with The Seeker Rose, Provence
Chestnut encrusted gag grouper, sweet potato orzo, arugula salad, crispy pancetta, and lemon verbena vinaigrette paired with Michael Pozzan Chardonnay, Russian River Valley
Pear almond tart with Gosling's rum caramel paired with St. Michael's Riesling, Germany
Join us at Fleet Landing Restaurant to dine on Chef Hedlund's contemporary southern cuisine while enjoying the stunning view from downtown's only restaurant on Charleston harbor. Housed in a 1940's retired naval building, Fleet Landing Restaurants unique atmosphere is accompanied by outstanding service. South Carolina Aquarium Good Catch coordinator Shelley Dearhart will be present to share information with guests about sustainable seafood best practices and how to make wise choices when dining out and at home.
The Good Catch dinner takes place Monday, Oct. 27, 2014, 6 p.m. at Fleet Landing Restaurant, located on 186 Concord Street in downtown Charleston. The experience is $65 per person. Ten percent of the proceeds will be donated to Good Catch at the South Carolina Aquarium. Space is limited and reservations are required. For reservations, call (843) 722-8100.
For all media inquiries, please contact Kate Dittloff at (843) 579-8660 or kdittloff(at)scaquarium(dot)org.
About South Carolina Aquarium Good Catch:
Good Catch generates awareness and leads communities in support of healthy fisheries and consumption of responsibly harvested seafood. The program pragmatically balances the health of the environment with South Carolina's demand for seafood by working with consumers and chefs, helping them make wise seafood choices to support healthy, abundant oceans. More than 115 restaurant partners have committed to serve and purchase sustainable seafood whenever possible and to avoid species that are immediately vulnerable to extinction. As a community, when we choose seafood from local, sustainably managed fisheries or dine at restaurants which do the same, we minimize our impact on the environment. Find the most up-to-date Good Catch partner list and more information on making good seafood choices each season at scaquarium.org/goodcatch.
About Fleet Landing Restaurant:
Charleston's Best Waterfront Restaurant has a view that is a distinctive destination unto itself. Housed in a 1940's retired naval building on the east side of the Charleston peninsula, Fleet Landing Restaurant features Chef Drew Hedlund's classic and contemporary Southern seafood fare in a setting that celebrates the area's waterfront heritage. The restaurant's "maritime chic interior" caught the eye of Food & Wine Magazine which featured Fleet Landing in their trend spotting "Where to Go Next" column. Fleet Landing, located at 186 Concord Street, is open seven days a week; serving lunch & dinner daily; brunch on Saturdays & Sundays.
About the South Carolina Aquarium:
The South Carolina Aquarium, Charleston's most visited attraction, features thousands of amazing aquatic animals from river otters and sharks to loggerhead turtles in more than 60 exhibits representing the rich biodiversity of South Carolina from the mountains to the sea. Dedicated to promoting education and conservation, the Aquarium also presents fabulous views of Charleston harbor and interactive exhibits and programs for visitors of all ages.
The South Carolina Aquarium, a 501(c) (3) not-for-profit organization and is open daily from 9 a.m. to 5 p.m. The Aquarium is closed Thanksgiving Day, half day Dec. 24 (open 9 a.m. to 1 p.m.) and Dec. 25. Admission prices are: Toddlers (2 and under) free; Youth (3-12) $17.95; Adults (13+) $24.95. The Aquarium plus the 4-D Theater experience is free for Toddlers, $22.95 for Children, $29.95 for Adults. The 4-D Theater experience only is $6.95 for Children and Adults, and free for Members. For more information call 843-720-1990 or visit scaquarium.org. Memberships are available by calling 843-577-FISH.
###