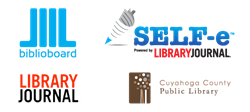 "Cuyahoga County Public Library is paving the way for how authors and libraries can join forces to benefit each other as well as the community's enthusiastic readers, said Biblioboard Chief Business Officer, Mitchell Davis
Parma, OH (PRWEB) October 22, 2014
Cuyahoga County Public Library (CCPL) is pleased to be the first library system in Ohio to make the SELF-e digital self-publishing platform available to its cardholders free of charge. The innovative SELF-e platform, created by Library Journal in collaboration with BiblioBoard®, offers indie authors and aspiring writers the opportunity to upload their eBooks, expand their readership, broaden their fan base and get discovered. Content submitted on the SELF-e platform will be evaluated by Library Journal and, if selected, appear in a curated collection of self-published eBooks showcased at participating libraries nationwide.
SELF-e employs BiblioBoard's award-winning PatronsFirst™ platform, which will allow CCPL to make local authors' self-published eBooks available to its cardholders and to any participating public library across the state. eBooks published on the SELF-e platform have no multi-user limitations and do not have to be checked out or returned, like other Library materials.
"We are thrilled to be the first Ohio library to launch SELF-e," said CCPL Communications and External Relations Director Hallie Rich. "This exciting, innovative new digital self-publishing platform gives us the unprecedented opportunity to showcase the talents of our local writers and help them expand their readership. At the same time, it will enable us to provide our cardholders and readers throughout Ohio with access to unique content unavailable anywhere else."
Mitchell Davis, founder and Chief Business Officer of BiblioLabs, is excited for the SELF-e platform to launch at one of the most prestigious and expansive library systems in the nation. "Cuyahoga County Public Library is paving the way for how authors and libraries can join forces to benefit each other as well as the community's enthusiastic readers. We're honored to work with such a forward-thinking library and are looking forward to this event," said Davis.
CCPL will host a SELF-e launch event on Sunday, October 26th from 1:30 p.m. to 4:30 p.m. at its newly renovated Brook Park Branch, located at 6155 Engle Road, Brook Park, 44142. Independent authors Justin Glanville, Elizabeth Ross Yurich, and Lori Zoss will share their success stories and sign books. BiblioBoard's own Mitchell Davis will be in attendance to explain how authors can make the most of the SELF-e platform. This event is free and open to the public. Registration is required. Click here to register online.
About BiblioBoard®
BiblioBoard is the PatronsFirst™ mobile library. The folks behind BiblioBoard are a powerful team based in Charleston, SC. They aim to transform access to information by providing a world-class user experience that thrills library patrons. BiblioBoard is moving library content delivery into the future in a sustainable way. BiblioBoard, used by nearly 2,000 libraries and in three statewide eBook projects, reaches 15 million patrons. BiblioLabs is also a proud member of the Charleston Digital Corridor. To learn more, visit http://www.biblioboard.com.
About Library Journal
Founded in 1876 by Melvil Dewey "in the interest of the modern library, and of those desiring to make its influence wider and greater," Library Journal has evolved with the times to become an indispensable, multi-platform resource for library professionals. LJ believes communities thrive when libraries provide everyone free access to information, promote literacy and learning, protect intellectual freedom, and preserve cultural memory. We honor this mission and all libraries, librarians, and communities that pursue it, aspiring to act as a guide and advocate for all who benefit from what libraries offer, and produce resources and services that strengthen libraries value to their communities.
About Cuyahoga County Public Library
At Cuyahoga County Public Library we are committed to our mission of being at the center of community life by creating an environment where reading, lifelong learning and civic engagement thrive and our vision to be the most convenient library system in the country. For more information, visit cuyahogalibrary.org.
###