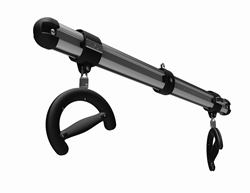 More exercises can be performed with a single TrakBar Pro-X in less time, with better and safer results than with an entire rack of traditional cable attachments
Feeport, New York (PRWEB) October 23, 2014
Trak Fitness LLC, a leader in ergonomically advanced fitness equipment, is pleased to announce the release of the new TrakBar Pro-X, the most functionally versatile and ergonomically advanced attachment for cable fitness equipment.
The TrakBar Pro-X is the first and only cable attachment that tracks perfectly with the user's natural movements. The handles on the TrakBar Pro-X travel freely along the length of the bar to automatically adjust to the user's hand and arm positions. With a total of 10 axis of rotation, the TrakBar Pro-X provides unrestricted mobility, allowing users to exercise with natural functional movements and perform asymmetrical and rotational exercises that are not possible with any other exercise equipment.
The TrakBar Pro-X automatically adjusts to mimic any other cable attachment on the market which eliminates the need for the dozens of cable attachments typically needed for cable exercise equipment. Both handles can also be locked in any position along the length of the bar with a single switch. Users can improve the efficiency and effectiveness of workouts by performing a wider range of exercises in succession without changing attachments or releasing the hand grips.
"More exercises can be performed with a single TrakBar Pro-X in less time, with better and safer results than with an entire rack of traditional cable attachments." said David Kristiansen, President of Trak Fitness LLC. "Another benefit for fitness club operators is that they can permanently attach a TrakBar Pro-X to a cable lat tower and eliminate the need for multiple attachments, which also eliminates the mess of attachments typically scattered around these machines."
The TrakBar Pro-X can also be suspended from a fixed overhead support to create the most versatile pull up station available. Users can transition between multiple types of pull ups without releasing their grip. They can also perform perfectly fluid single arm pull ups and endless variations of symmetrical and asymmetrical body weight exercises that are not possible with any conventional exercise equipment.
Trak Fitness LLC believes that the TrakBar Pro-X represents one of the most important advancements in functional training equipment to date.
Media Contacts:
David Kristiansen: david(at)trakfitnessllc(dot)com
About Trak Fitness LLC
Trak Fitness LLC is revolutionizing the fitness industry with state-of-the-art, ergonomically correct equipment. Its patent pending TrakBar Pro-X, TrakHandle Pro and TrakHandle Sport lines of cable accessories are the only attachments available that allow three-dimensional multi-plane movements so that users can train more effectively and efficiently, while minimizing potential stress and injury to muscles, joints, and ligaments. Trak Fitness LLC designs all of its products to work in harmony with the natural movements of the human body in order to improve performance, safety and results.