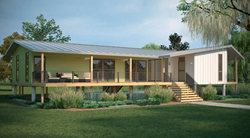 "Sustainability, durability, technology and wellness are the cornerstones of the Greenbuild LivingHome. It will set the agenda for sustainable housing for years to come," said Warren Nesbitt, senior vice-president, Hanley Wood.
Washington, D.C. (PRWEB) October 22, 2014
The 2014 Greenbuild LivingHome showcases the latest in high-performance green building and design including Cradle to Cradle® certified products. This is the first show home at Greenbuild and is designed to meet LEED® for Home v4 Platinum requirements. The 1,550 square foot, three-bedroom, two-bath modular demonstration home is available to tour in person October 22 and October 23 at booth 1139 at the 2014 Greenbuild International Conference & Expo in New Orleans. A free virtual tour is also available to the public now at http://livinghome.greenbuildexpo.com/.
"Sustainability, durability, technology and wellness are the cornerstones of the Greenbuild LivingHome. It will set the agenda for sustainable housing for years to come," said Warren Nesbitt, senior vice-president of residential construction programs for Hanley Wood.
"We built the first home ever to be certified LEED Platinum, and 11 of our livinghomes have been certified Platinum since," said Steve Glenn, CEO of LivingHomes. "The 2014 Greenbuild LivingHome will set a new standard for healthy and sustainable design. It will soon be available at LivingHomes.net as a standard LivingHome, the CK5.4."
The Greenbuild LivingHome, designed and developed by LivingHomes®, features market-ready and replicable design innovations, modular construction systems and a wide range of certified products selected to meet advanced performance criteria for energy and water efficiency, indoor environmental quality, durability, and materials and resource attributes. It is ENERGY STAR® v3 Certified and has been designed to meet LEED® for Home v4 Platinum requirements. In addition, it achieves several of LivingHomes' Z6 environmental goals, includes a wide range of Cradle to Cradle® certified products, and integrates many of the new International WELL Building Institute certification guidelines.
See the key green building and design features at Greenbuild or through a free tour online at http://livinghome.greenbuildexpo.com/ now through April 2015.
To reduce energy use and produce renewable energy:

17 photovoltaic solar panels that will generate 4.335 kW of energy - most of the home's electricity needs
Durable, long-lasting metal roofs that absorb less heat and reduce the need to cool a home by 20 to 70 percent
ENERGY STAR–rated appliances and light fixtures that use 30 percent less energy than conventional appliances and fixtures
Low-E windows and doors provide proper solar heat gain coefficient—helping to keep the home cool during the summer months—and have a low U-factor, which keeps the home warm in winter
To reduce waste:

Prefabricated construction, which dramatically reduces wasted construction materials as compared to standard site-build construction
Engineered hardwood flooring consumes less harvested wood than a conventional hardwood product
To create a healthier indoor environment:

Seamless countertops for the kitchen and bathrooms to reduce accumulation, pooling, or buildup of bacteria in crevices
Cradle to Cradle–certified products that are healthy for both the environment and a home's residents
Antimicrobial, anti-mildew drywall that captures VOCs brought into the home to maintain a high level of indoor-air quality
VOC-free paints and stains throughout the home to protect indoor air quality
To reduce water use:

Dual-flush toilets, which can reduce water usage up to 67 percent
Low-flow aerator faucets and showerheads that reduce water flow while maintaining the water pressure of a typical shower – and can reduce water consumption and the energy cost of heating water by up to 50 percent
Tankless water heaters that heat water instantaneously and are 83 to 93 percent more efficient than traditional water heaters
Water efficiency features inside and out. Water savings from the bath fixtures, dishwasher and clothes washer are estimated to save 2,900 gallons each month – a 48 percent improvement over baseline fixtures.
To create greater resilience from storms:

Windows equipped with hurricane-resistant screen systems—an affordable alternative to costly hurricane-resistant windows. The systems are easily detached so they can be removed and stored when not in use
Bathtubs and extra-deep sinks were added to the master bath to provide water storage should an impending hurricane threaten to cut off the water supply
After demonstrating the latest green building technologies and practices at the 2014 Greenbuild International Conference and Expo, the 2014 Greenbuild LivingHome will be permanently placed on a Make It Right site in New Orleans' Lower 9th Ward to become part of Make It Right's ongoing Katrina recovery efforts. The location of the home on an urban infill site will earn credits for proximity to public transportation and community resources like shopping, dining, schools and playgrounds.
The home was created in partnership with LivingHomes, Make It Right and the Cradle to Cradle Products Innovation Institute. Experts from each of the four partner organizations, collaborated with a team of sustainability specialists from the following organizations who helped guide the project toward its ambitious goals: CONTECTS, Inspirit-llc, International WELL Building Institute, Spruce Interiors + Design Studio, Steven Winter Associates and the U.S. Green Building Council.
The Title Sponsor is the Propane Education & Research Council.
Platinum Sponsors include: Andersen Windows, Advanta Cabinets, CertainTeed Gypsum, CertainTeed Insulation, Electrolux and Kohler Plumbing.
Gold Sponsors include: Cosentino, Shaw and Unico Systems.
The Silver Sponsor is Metal Sales.
Bronze Sponsors include: Benjamin Moore, DuPont Tyvek, Advantech Flooring, JELD-WEN, Kohler Generators, MechoSystems, Palm Harbor Homes, Panasonic, Rinnai, Roseburg Forest Products, SolarCity and Spruce Interiors.
About Hanley Wood
Hanley Wood is the premier information, media, event, and strategic marketing services company serving the residential, commercial design and construction industries. Utilizing the largest editorial- and analytics-driven construction market database, the company produces powerful market data and insights; award-winning publications, newsletters and websites; marquee trade shows and executive events; and strategic marketing solutions. To learn more, visit hanleywood.com.
About LivingHomes
LivingHomes, livinghomes.net, is a designer and developer of modern, prefabricated homes that combine world-class architecture with an unparalleled commitment to healthy and sustainable construction. We offer three lines of single and multi-family homes by Ray Kappe, FAIA, the founder of the Southern California Institute of Architecture, KieranTimberlake, the AIA 2008 Firm of the Year, and designers at LivingHomes. The first LivingHome, designed by Ray Kappe, was the first in the nation to achieve LEED Platinum. Twelve LivingHomes have been certified LEED Platinum, making the company one of the most experienced designers of LEED Platinum homes. LivingHomes are available in standard or customized configurations to builders, developers and individuals. In addition to design, LivingHomes is developing communities of LivingHomes for Make It Right, at the Ft. Peck Indian Reservation in Montana, and for its own project in Atwater Village, Los Angeles.
About Make It Right
Founded by Brad Pitt, Make It Right builds sustainable homes, buildings, and communities for people in need. All our homes are LEED Platinum–certified and Cradle to Cradle–inspired. Make It Right is working in communities across the country including New Orleans, La., Newark, N.J., Kansas City, Mo., and the Fort Peck Indian Reservation in Montana. For more information, visit makeitright.org.
About the Cradle to Cradle Products Innovation Institute
The Cradle to Cradle Products Innovation Institute is a non-profit organization with a mission to turn the making of things into a positive force for people, the economy and the planet. It administers the Cradle to Cradle Certified Products Program, a rigorous, third-party process that provides a way forward for hundreds of the world's leading brands to assess and continuously improve the health, safety, and recyclability of their products. Cradle to Cradle Certified products are eligible for LEED v4 credits. The Institute has 14 accredited assessment bodies around the world that assist companies in readying their products for certification. Find out more at http://www.c2ccertified.org/. Follow the institute @c2cCertified.