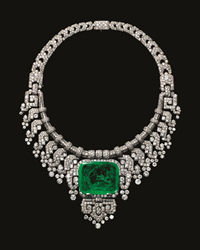 Denver, CO (PRWEB) October 30, 2014
The Renaissance Denver Downtown City Center hotel has announced a new, limited time offer for the upcoming Brilliant: Cartier in the 20th Century exhibit at the Denver Art Museum. Exhibit visitors will experience a rare opportunity to view one of the most preeminent names in the industry up close with stunning jewelry, timepieces and precious objects created between 1900 and 1975. In addition to items loaned by the Cartier Collection, the exhibition will include loans from museums and private collections from around the world.
The Renaissance Denver Downtown City Center hotel is offering a chance to experience this special exhibit with VIP front of the line tickets. Guests will be greeted with a welcome bottle of sparkling wine in room upon arrival and transportation to the exhibit. Reservations for this special occasion are available from November 16, 2014 to March 15, 2014, and can be made by calling the hotel directly at 303-867-8100 or by booking online using the promotional code E0N.
About Renaissance Denver Downtown City Center
Located in downtown Denver's famous Colorado National Bank building, the Renaissance Denver Downtown City Center provides guests with a modern experience in one of Colorado's most historic buildings. Labeled "the most beautiful room in Denver" by the Denver Post newspaper, the hotel features 221 guestrooms and nine suites; 6,000 sq. ft. of meeting space; a fitness center; and range, an original concept restaurant and bar, serving locally-purveyed cuisine inspired by the Rocky Mountain West. Imbued with a series of 16 murals from the iconic western muralist Allen Tupper True, the property showcases historic elements from the building's original construction in the early 20th century, juxtaposed with the accommodations, amenities and comforts of a modern luxury hotel. The Renaissance Denver Downtown City Center is ideally situated in Denver's financial district, a half block from the 16th Street pedestrian Mall, three blocks from the Colorado Convention Center and within walking distance to popular sporting venues such as Coors Field and the Pepsi Center, as well as to local retail and restaurants on Larimer Square and at Union Station. For more information, visit http://www.rendendowntown.com or call (303) 867-8100. The Renaissance Denver Downtown City Center and range are proudly managed by Stonebridge Companies in Denver, CO.
Founded in 1991 by Navin C. Dimond, Stonebridge Companies is a privately owned, innovative hotel owner, operator and developer headquartered near Denver, Colorado. The company's current portfolio entails 45 hotels with over 7,000 rooms nationwide. This diverse listing of properties includes select-service, extended-stay, mid-scale and full-service hotels in markets throughout the U.S. For detailed information, visit our website at http://www.SBCOS.com.