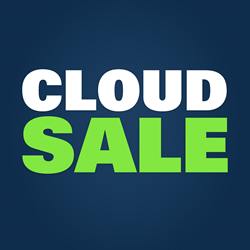 Our Cloud Sale is offering unprecedented savings
Oakville, Ontario (PRWEB) October 27, 2014
Jeff Collier, CEO of Stage2Data announced the launch of a Cloud Sale that delivers substantial savings of up to 20% off Cloud Hosting, Cloud Disaster Recovery as well as substantial discounts on the cost per GB.
During the announcement, Collier stated, "In light of our impressive growth and our team winning Bronze at the CDN Channel Elite Awards, we're hosting a Cloud Sale to celebrate all we've accomplished this year."
Early response to the Cloud Sale has been positive with businesses of all sizes adding up savings of thousands per year. And because Stage2Data is a 100% Canadian owned with Data Centers exclusively in Canada it is an attractive choice for businesses who do not want their data stored in the USA.
Jacques Swanepoel, Stage2Data CTO echoed Colliers sentiments saying, "The business community in Canada and around the world has embraced our solutions. This Cloud Sale is a way for us to invite even more clients to get to know us and our exceptional team. With savings of 20% on both Cloud Hosting and Cloud Disaster Recovery plus savings per GB we're looking forward to protecting even more businesses."
To find out more about the Cloud Sale visit http://www.stage2data.com/cloudsale
About Stage2Data
Stage2Data is one of Canada's fastest growing and most trusted cloud solution providers providing exceptional services to companies in Canada, the USA and around the world. Since 1998 Stage2Data has provided data solutions including Cloud Hosting, Cloud Backup and Cloud Disaster Recovery solutions that have been proven to manage data securely and IT costs effectively.