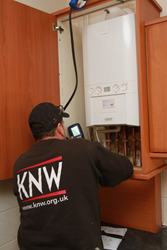 Newcastle, UK (PRWEB UK) 24 October 2014
As arctic weather is upon us this winter, we are all going to feel the heat as our bills start to increase. There are some simple tips on ways we can spend some money up front but save more in the long-term – and save a great deal of energy too
Ross Armstrong is MD of local heating company KNW. Here are Ross's tips:
1. Install a New Boiler – The newer the boiler, the better – installing a new boiler can often feel like a big expense but can save you up to £300 a year in running costs. The latest boilers are a lot more energy efficient than older models. The costs for replacing a boiler will vary, but a straightforward gas boiler replacement will typically cost less than you think.
2. Insulate Your Property - As a third of the cost of heating your home is lost through the walls and a quarter through the roof, insulating your home and heating equipment correctly will keep the heat in and the cold air out, while reducing your bills. Contact KNW today to find out more about insulation grants that are available in your area.
3. Draught-Proof Your Home – The cold winds are starting to blow and it's set to get worse. Draught-proofing around windows and doors could save you up to £50 per year. Draught-free homes are comfortable at lower temperatures so you'll be able to turn down your thermostat. This could save you 10% off your heating bill.
4. Get a Home Energy Audit – This will highlight a number of ways you can preserve both energy and money. You can perform a simple energy audit yourself but a professional will use more advanced techniques to help you identify where money can be saved.
5. Install a Smart Meter - Scheduled to be installed in every British home by 2020 under the national upgrade scheme, smart meters are a new kind of energy meter that automatically send electronic readings to your energy supplier. They will provide real-time information on how much energy you're consuming and how much it's costing. This allows you to have more visibility of your energy use and bills.
For more information, contact one of the team from KNW at http://www.knwheating.co.uk or call 0191 543 9415.
Go to http://www.citizensadvice.org.uk for more information on Energy Saving Week.