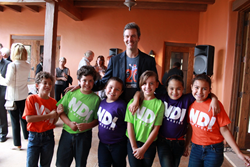 I am pleased to see an organization that began in Santa Fe take the lead nationally when it comes to programs that serve youth -Santa Fe Mayor Javier Gonzales
Santa Fe, New Mexico (PRWEB) October 22, 2014
NDI New Mexico is proud to be recognized by The Wallace Foundation as one of eight exemplary and highly effective organizations in the country, in particular for their organizational excellence and the connection their programs make between the arts and healthy living. NDI New Mexico will host the Wallace Foundation for breakfast and lunch in both Albuquerque and Santa Fe on October 23 and 24, respectively, in order to reveal the findings of the Foundation's recent report "Something to Say: Success Principles for Afterschool Arts Programs from Urban Youth and Other Experts." The report showcases how high quality arts programs can impact youth positively and calls out specific principles which make programs for youth really work.
"Our goal is to inspire children to be their best, and we are thrilled that The Wallace Foundation recognizes our programs," says NDI New Mexico Executive Director Russell Baker. "Arts programs teach young people discipline, inspire hard work and joyful concentration, and provide positive outlets for expression. We have seen many children who have found ways to overcome obstacles in their lives, develop self-confidence, and grow through dance."
Each success principle described in the "Something to Say" report is a set of specific arts-related practices or norms shared by top-notch programs. The Wallace Foundation seeks to catalyze broad impact by sharing new solutions and effective practices – which is why they are coming to New Mexico for a series of events.
"The results of this report are important for the children of New Mexico," says Ed Rivera, President and CEO of United Way of Central New Mexico, which is co-hosting the Albuquerque events. "The standards demonstrated by NDI New Mexico and others in this report will help all New Mexico non-profits better serve our children."
"I am pleased to see an organization that began in Santa Fe take the lead nationally when it comes to programs that serve youth," said Mayor Javier Gonzales, who will speak at the luncheon event in Santa Fe. "Building the foundation for a stronger city in the future begins and ends with prioritizing the health and wellness of our young people."
The series of events in New Mexico takes place over two days, starting with a "breakfast briefing" in Albuquerque on October 23 at 8 a.m. at The Hiland Theater with community business leaders and elected officials followed by an in-depth presentation for local charities working with youth. Featured speakers at the Albuquerque event will include Mayor RJ Berry, Bernalillo County Commissioner Maggie Hart-Stebbins, and report authors Denise Montgomery and Peter Rogovin. The Albuquerque events are co-hosted by both the Albuquerque Community Foundation and the United Way's Center for Non-Profit Excellence.
A similar breakfast will take place in Santa Fe at The Dance Barns on October 24 at 8 a.m. followed by a luncheon for key stakeholders and donors. Speakers at the Santa Fe event include New Mexico Cultural Affairs Secretary Veronica Gonzales. All events are sponsored by Fidelity Investments.
Non-profits and the public are welcome to attend, but must RSVP.
Please go to http://www.ndi-nm.org for more information and to RSVP.
FOR MEDIA INQUIRIES:
Alexandra Pratt
JLH Media
505 310-2489
alexandra(at)jlhmedia(dot)com
# # #
ABOUT NDI NM: NDI-NM is a 501(c)(3) founded in 1993, which inspires children to work hard, never give up and do their personal best through multi-faceted programming. NDI New Mexico uses dance as the medium for helping children to develop discipline, a standard of excellence, and a belief in themselves that will carry over into all aspects of their lives. NDI New Mexico partners with public schools and state agencies to provide classes to thousands of children in underserved communities throughout New Mexico. Our statewide programming reaches more than 9,000 students and classroom teachers in 91 schools annually. In Albuquerque, NDI New Mexico is located at The Hiland Theater, 4800 Central Avenue SE. In Santa Fe, NDI New Mexico is located at The Dance Barns, 1140 Alto Street. For more information, visit http://www.ndi-nm.org.