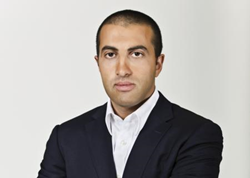 Newton, MA (PRWEB) October 24, 2014
Mosab Hassan Yousef was a high ranking member of the terrorist organization, Hamas. Because of his former upper echelon position in the group, he is now the world's foremost whistleblower of terrorism in the region – able to educate audiences on the ideology of Islamic extremism and offer accurate predictions of where the conflict in the Middle East is headed. In the wake of the advance and popularity of terrorist groups such as ISIS and the Khorasan Group, his message and information has never been more critical to facilitate positive change in the region. He currently lives in California under political asylum and tours the country speaking to audiences, represented by American Program Bureau.
Yousef is a Palestinian and son of a Hamas founder and leader, Sheikh Hassan Yousef. From 1997 to 2007, Yousef converted to Christianity and spied for Israel's equivalent to the FBI, the Shin Bet. His pedigree in Hamas made him the most valuable source of information within the Hamas leadership. The information Yousef supplied to Israel prevented dozens of suicide bombings and assassinations, exposed numerous Hamas cells, and assisted Israel in hunting down Hamas militants, including his own father who later disowned him. In March 2010, he published his autobiography entitled, Son of Hamas and also stars in the newly released film chronicling his story, The Green Prince directed by award-winning filmmaker, Nadav Schirman. He is now speaking to audiences, offering understanding and solutions to the conflict in the Middle East.
Now living in the United States, (with a fatwa on his head) Yousef speaks to audiences, exposing the Hamas organization, from the inside. He speaks frankly and courageously even when faced with the unimaginable burden, (which he calls a responsibility) of risking his life and pulling back the curtain of Hamas – exposing its inner workings and brutality. Yet Yousef remains hopeful for peace in the Middle East, and with his knowledge, experience, and ideas, his audiences leave feeling hopeful as well.
Organizations wishing to book Mosab Hassan Yousef should contact the American Program Bureau at 1-617-614-1600 for information on available dates and program topics. For more information on American Program Bureau, please visit http://www.apbspeakers.com. For a profile on Mosab Hassan Yousef, please visit http://www.apbspeakers.com/speaker/mosab-hassan-yousef
About American Program Bureau
Founded in 1965, American Program Bureau has long provided a vocal platform for the world's most forward thinking and motivational voices across government and business including former acting U.S. Secretary of Labor Seth Harris, Fast Company editor Robert Safian, Google Ideas director Jared Cohen, and others. The global leader in the professional speaking industry, APB exclusively represents hundreds of speakers and serves thousands of clients worldwide.
# # #