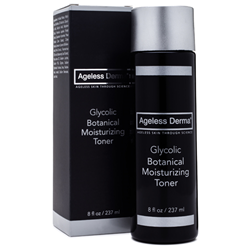 Irvine, California (PRWEB) November 04, 2014
A skin toning product made up of all natural botanical ingredients that not only tones the complexion, but also moisturizes and deeply cleanses pores, is Ageless Derma's latest advancement in skin care. The Glycolic Botanical Moisturizing Toner contains a bevy of pure plant-derived ingredients to ensure pores are deeply cleansed and excess oils are kept in check.
The Glycolic Botanical Moisturizing Toner is composed of glycolic acid, derived from the sugar cane plant. This key ingredient effectively works on exfoliating dead skin cells from the skin's surface areas as it balances out uneven skin tone. Ageless Derma recognizes the benefits of infusing their toner with glycolic acid because this plant derivative can penetrate the outer layer of skin and work deeply to buff and renew.
The Salicylic acid in Glycolic Botanical Moisturizing Toner is derived from the bark of the willow tree. It is an organic beta hydroxy acid that is widely used as an anti-acne substance. It aids in the treatment of certain skin conditions such as acne, psoriasis, and dermatitis. The Salicylic acid helps open clogged pores and permits new skin growth to occur. It keeps bacteria away from skin cells and aids in exfoliation.
Glycolic Botanical Moisturizing Toner also contains lemon peel extract for skin brightening and uneven tone repair. The rosemary leaf extract in this product works as an antiseptic in addition to salicylic acid's work. It contains vitamins and minerals that aid in toning skin. Another ingredient that helps the Glycolic Botanical Moisturizing Toner perform its maximum effect on skin is Pinus Strobus Cone extract (from pine trees) to soothe and add nourishment to skin.
The developers at Ageless Derma Skin Care know they are making something remarkable occur in the skin care world. Their line of physician-grade skin repair products incorporates an invaluable philosophy: supporting overall skin health by delivering the most cutting-edge biotechnology and pure, natural ingredients to all of the skin's layers. This approach continues to resonate even today with the company's founder, Dr. Farid Mostamand, who close to ten years ago began his journey to deliver the best skin care alternatives for those who want to have healthy and beautiful looking skin at any age.
About this latest Ageless Derma product, Dr. Mostamand says, "The Ageless Derma Glycolic Botanical Moisturizing Toner revives the skin's natural pH balance as it binds moisture to skin where it belongs. This latest Ageless Derma toner deeply cleanses pores and regulates the production of excess sebum without drying or feeling greasy on skin. It is an excellent toner for those experiencing acne conditions or with photo-aged or aging skin in general."
Ageless Derma products are developed in FDA-approved laboratories. All ingredients are inspired by nature and enriched by science. Ageless Derma products do not include parabens or any other harsh elements, and they are never tested on animals. The company has developed five distinctive lines of products to address any skin type or condition.