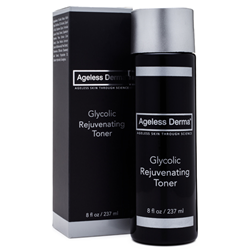 Irvine, California (PRWEB) October 27, 2014
The Glycolic Rejuvenating Toner is Ageless Derma's latest innovation in anti-aging skin care. This revitalizing toner contains glycolic acid, a natural derivative of the sugar cane plant. Other glycols included in this refreshing toner help with skin exfoliation and the revelation of younger, fresher skin.
Exposure to toxins and pollutants in the environment dull skin tone and make it unevenly colored, with dark spots that mar the complexion. The Glycolic Rejuvenating Toner contains natural glycolic acid, an alpha hydroxy acid (AHA), which enables the skin to appear years younger through its gentle yet effective exfoliating action. AHAs are known to increase collagen production and thicken skin that has become thinned with age, without any associated inflammation. It exfoliates dead skin cells to gently reveal new layers of skin. Fine lines, surface scars and uneven tone are returned to their former glory.
Glycolic Rejuvenating Toner contains Butylene Glycol, a derivative of organically fermented corn, which is broken down into a gamma-hydroxybutyric acid. This is a substance that is found within the human body naturally. It is a powerful humectant and improves the skin's moisture-retaining abilities. This glycol is non-toxic and hypoallergenic.
The botanical extracts placed within Glycolic Rejuvenating Toner naturally freshen and heal the skin. Rosemary extract is an antiseptic and anti-irritant for skin blemishes, acne, and roughened, irritated conditions. It heals and protects. The minerals and vitamins contained within the rosemary extract tone the skin in a natural and effective manner. Glycolic Rejuvenating Toner also contains lemon bioflavonoids (Citrus Medica Limonum), which brighten skin tone, diminish darkened age spots and give skin a luminous appearance.
The developers at Ageless Derma Skin Care know they are making something remarkable occur in the skin care world. Their line of physician-grade skin repair products incorporates an invaluable philosophy: supporting overall skin health by delivering the most cutting-edge biotechnology and pure, natural ingredients to all of the skin's layers.
This approach continues to resonate even today with the company's founder, Dr. Farid Mostamand, who close to ten years ago began his journey to deliver the best skin care alternatives for those who want to have healthy and beautiful looking skin at any age. About this latest Ageless Derma product, Dr. Mostamand says, "The Ageless Derma Glycolic Rejuvenating Toner is made up of healthy, protective ingredients that come from nature. Not only will this toning product reveal the healthy skin that lies beneath, but it also anti-ages skin as it speeds up collagen and elastin production, giving skin a firmness and suppleness that has been missing until now."
Ageless Derma products are developed in FDA-approved laboratories. All ingredients are inspired by nature and enriched by science. Ageless Derma products do not include parabens or any other harsh elements, and they are never tested on animals. The company has developed five distinctive lines of products to address any skin type or condition.