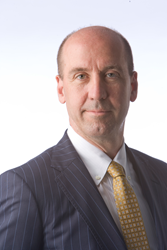 The opportunities for ingenuity are being greatly extended, but we must have humility, keep an open mind and be aware of them.
Chicago, IL (PRWEB) October 24, 2014
"Seeing the future is easier if you take off blinders in the present," says Jim Montague of the Emerson Community Site. What he's referring to is a keynote speech delivered by futurist Jack Uldrich to the Emerson Global Community Exchange on October 7th. Uldrich, a world renowned futurist and trend expert, will also be helping ABB/Thomas & Betts take the blinders off when he delivers his keynote, "Breakthrough: Ten Trends Transforming Tomorrow" at their new product launch in Chicago on October 27th.
Montague goes on to discuss Uldrich's approach to future-proofing businesses: "Many potential and upcoming innovations are already foreseeable given today's capabilities and tools. What's needed to reveal them is awareness and the humility to give up stuck-in-a-rut thinking patterns that stifle useful questions and possibilities. Then, the will to action can turn these desired futures into new realities...easier said than done, of course, but futurist Jack Uldrich lit some sparks in his keynote address to Emerson Global Users Exchange delegates."
When it comes to future-proofing, lighting sparks and igniting fires is what Uldrich has made a career of, and he loves doing it. "The futurist's job is to focus on the big picture, and point out the 800-pound gorillas that others are missing because their attention is focused elsewhere," said Uldrich. "I want to help future-proof as many businesses as I can against all the changes that are coming tomorrow. Business models are changing quickly, while others are fading away, so it's important to be aware of changes these companies might not be able to see."
Uldrich spends a lot of time researching and 'seeing' what those changes may be--he then writes on those trends (he is the author of over 11 books,) his most recent of book is Foresight 20/20. And following his research, he crosses the globe speaking on emerging trends in health care, education, agriculture, energy and utilities, just to name a few.
His keynotes are thought provoking, motivating and incredibly easy to digest and relate to; he is anticipating a great turn out in Chicago for the ABB/Thomas & Betts Emax 2 product launch there and he will be rounding the month off with another product launch for them in New York City.
Parties interested in learning more about Uldrich, his writing or speaking availability are encouraged to go to his website. Media wishing to interview him, or know more about the event can contact Amy Tomczyk at (612) 343-0060.