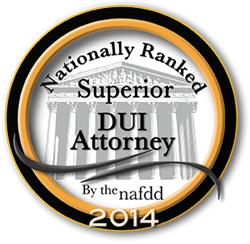 Thank you for the industry recognition. This exposure on a statewide level will help others in need find excellent representation.
Doylestown, PA (PRWEB) October 23, 2014
Pennsylvania attorney, Michael L. Saile, Jr., of Saile & Saile LLP has earned the prestigious accolade of being named one of the Top 100 DUI Attorneys for the Commonwealth of Pennsylvania. The National Advocacy for DUI Defense Attorneys (NAFDD) is an invitation-only professional organization comprised of the country's top DUI attorneys. The Organization's goal is to identify and validate the top private attorneys in the field of DUI defense and to assist those accused of DUI in their search for legal representation.
The NAFDD search for Pennsylvania's most skilled lawyers found Mr. Saile among the upper echelon. Their extensive research revealed his outstanding accomplishments. His nomination demonstrates his commitment to the DUI defense field and exceptional credentials.
As a Bucks County DUI defense attorney, Mr. Saile exemplifies the superior qualifications required for the nod, including his track record of courtroom results and proven community leadership. Mr. Saile gives back to his community holding a position on the Board of Directors at TODAY, Inc., a community drug and alcohol rehabilitation program designed to be an alternative to incarceration.
Michael L. Saile, Jr., Esq. writes, "It is an honor to receive recognition from the National Advocacy for DUI Defense Attorneys. My goal is to provide sound legal guidance to help my clients to maximize the positive opportunities that they may be afforded during what is often a confusing and stressful time."
Licensed for over 10 years, Mr. Saile focuses his practice at Saile & Saile LLP on DUI defense and personal injury law in Pennsylvania and New Jersey and has been named a "Rising Star" multiple times by SuperLawyers.com. He has also been named multiple times to the Top 40 Under 40 attorney list by the National Trial Lawyers Association. In 2014, he was named one of the Top 40 Under 40 by the American Society of Legal Advocates (ASLA,) and one of the 10 Best Attorneys in Pennsylvania by American Institute of DUI/DWI Attorneys. His "Superb" 10.0 out of 10.0 rating on Avvo.com, a professional ratings website, from both clients and peers speaks to his superior qualifications. Mr. Saile has been recognized as one of Forty Under 40 business and community leaders by the Bucks County Courier Times.
Those arrested for DUI can obtain a complimentary copy of Mr. Saile's Bucks County DUI Guide by downloading it on his website. Saile & Saile LLP also helps victims of auto, truck, motorcycle, bicycle, and pedestrian accidents to recover compensation from insurance companies.