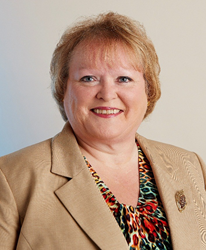 Eagan, MN (PRWEB) October 23, 2014
It was announced today that Carol Kraft, President & COO of SelectAccount, a leading provider of health savings accounts (HSAs) received a 2014 SuperStars and Innovators Award for "Top Five Industry Innovator". This award recognizes the best work and practices in innovative health and benefit management. The program recognizes employer initiatives and individual leaders for excellence both in the field of consumer-driven health care and benefits, and in their service and involvement to the community.
As a 40-year health industry veteran, Carol has been part of the many changes that shape the market as we know it today. As an innovator, Carol has helped spearhead many enhancements and improvements to the HSA experience since joining SelectAccount in 2005 – tiered plans, online account management and HSA debit cards – all with the goal of a better and simpler customer experience. Her passion is to deliver on a hassle-free promise with powerful web tools for groups, members and distribution partners. These tools now allow members to submit claims electronically in a variety of methods from debit cards to online withdrawal requests with direct deposit reimbursement. Members can then store their records in an electronic document "e-Vault" for use in the future. Groups can manage their employee benefits online. Our distribution partners can access the information they need to manage and onboard their groups and deliver proposals to win new business.
Carol has been actively involved in numerous boards and organizations throughout her career, usually holding leadership positions within the groups – including Women's Health Leadership Trust, Eastman Kodak Advisory Board, EDSF Advisory Board, Xerox Advisory Board, Bluestone Credit Union, past chair of St. Paul College Advisory Board and Dakota County Technical College Graphics Arts Advisory Board, Member of Minnesota Minority Purchasing Council, Mentor with Menttium 100, Member of Mendota Dakota Organization, and Member of the Customer Advisory Board at Alegeus. Carol also serves on the board of CCStpa, a third party administrator providing solutions to businesses with self-funded health plans.
About SelectAccount
SelectAccount has been driving innovation in medical savings administration for over 25 years. They offer a full suite of tax-advantaged solutions – HSA, HRA, FSA, VEBA, transportation and dependent care accounts to meet client's changing needs as they plan for their health care expenditures. They are one of the leading medical savings administrators in the country managing more than half a billion dollars in consumer medical account savings assets integrated with numerous partner data exchange connections, serving over 7,000 employers with account holders in all 50 states. MII Life, Inc., d.b.a. SelectAccount has been approved by the U.S. Department of Treasury as a non-bank HSA Trustee. SelectAccount is headquartered in Eagan, Minnesota with an office located in Chicago, Illinois. Visit http://www.SelectAccount.com to learn more.