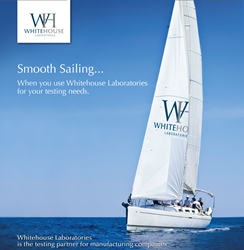 We understand the significance stability and storage programs have on our clients and we view this investment as a way to improve our service offering to current and new clients
New York, NY (PRWEB) October 30, 2014
Whitehouse Laboratories has formally announced a major capital investment plan for its ICH Stability Testing and Package Test Capacity. Responding to growing demands from life science companies, this investment centers on a dramatic increase in environmental chamber storage space that will enable a much larger volume of stability, storage and aging samples to be securely held on site at Whitehouse Labs. The first stage of this major capital expenditure has already taken place with the recent completion of a new walk in environmental room that has just been formally qualified.
The walk-in environmental room, which adds over 2,400 cubic feet of storage space, is designed for large scale "controlled room temperature" studies. Production retains are becoming more prevalent as manufacturers are looking for secure, offsite storage of product for the duration of the claimed shelf life. The secured room precisely controls temperature and humidity and is subject to a strict 24-7, GMP compliant monitoring program. In addition, a new 900 cubic foot walk-in temperature and relative humidity chamber will be installed in the Package Testing Laboratory. Validated to fulfill the requirements of ISTA and ASTM, the added capacity will offer our valued clients reduced turnaround times when complying with package validation preconditioning required per ISTA, ASTM D4169 and ISO 11607.
Further to this investment is the purchase of multiple reach-in chambers from Darwin Chambers that will increase the current capacity for all common ICH stability conditions and package aging commonly required by ASTM F1980. These chambers will include a variety of single, double and triple doors systems that will be installed in the main laboratory building, the package testing laboratory as well as the secure, DEA controlled substances specific stability cage. As with the walk-in systems, all chambers are continuously monitored by automated monitoring systems with full back-up power and water supplies.
"Whitehouse Labs understands the significance stability, aging and conditioning programs have on our clients and we view this investment as a way to improve our service offering to current and future clients," states Chief Operations Officer Mark Stier. "Our ability to provide routine ICH stability as well as unique storage solutions to our clients in greater capacities ties in nicely to our other service areas and enables our clients to manage their programs through one vendor which has proven to be a project management and cost effective benefit."
ICH Stability testing and product aging programs are critical aspects of the approval process for life science manufacturers. Programs like these are key to determining product shelf life, package system performance and integrity. The ability of a contract laboratory such as Whitehouse Laboratories to provide a large volume of storage space, coupled with a comprehensive analytical function, is a benefit that all pharma, medical device and life science manufacturers can appreciate.
About Whitehouse Laboratories
The Testing Partner to Manufacturing Companies, Whitehouse Labs is an FDA regulated, DEA Licensed, ISO 17025 and ISTA certified contract service provider to the pharmaceutical, medical device, personal and consumer product industries. Whitehouse Laboratories offers analytical services for the testing of materials, finished products, container and package systems that enable our clients to meet and exceed the required quality standards established by the key regulatory agencies.
About Darwin Chambers Company
Darwin Chambers designs, builds, services, and installs a wide variety of walk-in and reach-in environmental chambers and incubators - including cold rooms, dry or moist storage, plant growth chambers, pharmaceutical stability rooms, and laboratory freezers and ovens. Our standard designs offer the most accurate, uniform, efficient, and cost-effective solutions available today. Darwin Chambers environmental test chambers are uniquely designed for applications requiring adherence to FDA, ICH, and GMP guidelines.