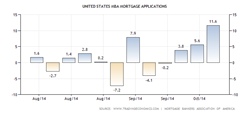 Over the past 3 weeks the net rise in applications has been over 20 percent!
Chicago, IL (PRWEB) October 22, 2014
Lenders like Peoples Home Equity were very pleased to see that existing home sales hit an annual high for September. in addition, lenders saw more great news this morning when weekly mortgage applications posted a surge for the week ending on October 17th.
September existing home sales were released by the National Association of Realtors on Tuesday, October 21st. Existing home sales increased to an annual pace of 5.17 million, which is the highest reading since September 2013. The report confirmed that the housing market qas continue to improve. Existing home sales rose for 4 consecutive months from a low in March of 4.9 million to 5.14 million in July. Then sales took a slight -1.75% pause to 5.05 million in August, now lenders just saw a 2.37% rise to new highs in September.
This morning, the Mortgage Bankers Association released their latest mortgage applications survey report which showed an 11.6% week over week rise. The surge may be due to the recent decline in mortgage rates ever since the Federal Reserve September minutes rec-confirmed their stance on keeping interest rates now. Mortgage applicantions, which are viewed as a leading indicator had been lagging throughout the summer until now. October 17th marks the 3 consecutive time that applications have risen. Lenders like Peoples Home Equity believe bidding on real estate will be quite competitive this winter, especially since housing inventories are already low. Over the past 3 weeks the net rise in applications has been over 20 percent!
Peoples Home Equity views both data points from existing home sales and mortgage applications as confirmation that the housing market is both healthy and growing. Prospective home buyers should at least get pre-approved for a home loan before the market grows event more competitive. Americans are starting to realize that perhaps the only way to secure a deal this winter is to secure financing quickly and begin placing bids on multiple properties. Securing financing quickly is imperative since the market is still rampant with cash buyers. Cash buyers always have a soft spot in the hearts of sellers, but those with pre-approved home loan can compete by bidding first on a property or at a higher price than a cash buyer.
Contact a Peoples Home Equity loan officer today at: 262-563-4026