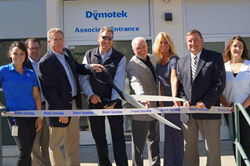 Somers, CT (PRWEB) October 30, 2014
Despite the perceived manufacturing climate in Connecticut, plastic injection molder Dymotek Corporation celebrated the grand opening of a second facility located in Somers, CT. The grand opening was held in conjunction with National Manufacturing Day to showcase manufacturing success in Connecticut. Norm Forest, Dymotek CEO commented on why the event was planned on Manufacturing Day: "It is an exciting way to celebrate our 3rd Manufacturing Day. Not only did we open a second facility and double our staff, but we did so right here in Connecticut. These open houses are a wonderful way to invite the community to see the potential for very rewarding careers in a beautiful manufacturing environment."
In attendance were owners Tom and Steve Trueb, local Town and State officials, employees and neighbors. Somers First Selectman, Lisa Pellegrini, spoke at the event and welcomed Dymotek to Somers by saying, "The state's economy has been rooted in manufacturing since colonial times and continues to be a world leader in industrial development. Today's opening is symbolic of Dymotek Corporations long term success." This is the latest expansion for Dymotek since 2004 when they added 20,000 square feet in Ellington.
After the ribbon cutting ceremony, all attendees were given a tour of the newly renovated facility. In the coming months, Dymotek will continue to grow its niche market, two shot silicone molding, into the Somers facility and plans to have all 48,000 square feet full within 5 years. Dymotek attributes much of its success, growth and ability to keep moving forward to long term contracts with their customers.
To learn more about Dymotek and see our career opportunities, visit http://www.dymotek.com.