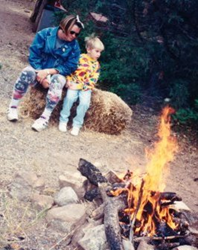 Camping at Christmas offers the possibility for fireside chats, stargazing, and a wide variety of unique experiences in a naturally peaceful setting.
Tampa, FL (PRWEB) October 24, 2014
A cozy cabin or a special campsite makes camping at Christmas appealing to families who need time away from the commercial chaos often associated with the holiday season.
"Camping offers the possibility for fireside chats, stargazing, and a wide variety of unique experiences in a naturally peaceful setting," according to Nancy Nelson-Duac, Curator of the Good Stuff for theFamilyTravelFiles.com. "Just assemble something old (comfy slippers), something new (the latest vacation app), something borrowed (a sled or a good book), and do something cool with your kids."
The newest list of Christmas camping ideas has just been posted to the Camp Out folder featured at theFamilyTravelFiles.com. The list includes eight Christmas camping ideas, each well-suited for a family winter holiday break some in cozy cabins with fireplaces and others in tents with fire rings and one in an awesome winter lodge. The list includes:
1. Nashville Jellystone Park Camp-Resort in Tennessee: Camping with holiday lights and music.
2. Blue Spring State Park in Florida: Sunshine and camping with manatees.
3. The Ranch at Furnace Creek in Death Valley, California: Horseback riding and extreme stargazing.
4. Great Sand Dunes National Park in Colorado: Sand boarding, sledding, and skiing on the dunes.
5. Stone Mountain Georgia Christmas Camping: Homespun Christmas activities plus extreme snow tubing.
6. First Landing State park in Virginia Beach: Sandy beaches, whale watching and miles of holiday lights.
7. Cinnamon Bay Campground on St. John: Caribbean Christmas camping on the beach.
8. Ohio State Parks Lodges and Cabins: Sledding, skating, and spa time.
9. Yellowstone National Park in Montana: Snowshoes, cross-country skiing, and Old Faithful with Austin Adventures.
More details about the Christmas camping ideas on the list may be found in the vacation planning folder "Camp Out" and additional family vacation suggestions have been posted to "Away for the Holidays" for inspiration.
For the latest family travel news follow The Family Travel Files on Twitter (@FamTravelFiles) straight from the homepage.
About theFamilyTravelFiles.com. Founded in 1998, theFamilyTravelFiles.com researches and posts family vacation idea making it easier for parents or grandparents to plan great family vacations. The website specializes in destination and planning information, family travel advice, and family travel deals. The site features a number of vacation idea folders including popular favorites – TravelPhases, Secret Places, All Inclusive, Reunions, SnowPlaces, and Away for the Holidays.