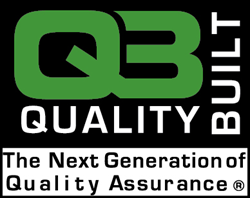 Quality Built issues note of caution on recent construction defect trends
Fort Lauderdale, FL and San Diego, CA (PRWEB) October 22, 2014
Quality Built, LLC (Quality Built), the country's leading provider of third-party construction quality assurance services, forecasts tremendous growth over the next five years in commercial and residential construction based on current data raising concerns over the delivery of quality construction.
Brian Kramer, P.E. and C.E.O. of Quality Built, sees current construction growth continuing at a rapid pace. Kramer notes, "Based on our available data and field information, as well as the pipeline of projects that Quality Built is currently inspecting and that are set to begin, we see construction continuing to grow at a rate that is nearing long-term averages on a national scale, while at the same time approach, if not nearing, "boom levels" in certain markets we serve. In areas of intense activity, we see little that will slow demand for new construction as low interest rates, available capital and strong demand from lack of construction during the post boom years continues to drive the need for additional residential and commercial product."
Kramer points to industry data as well as Quality Built's own levels of activity in support of its projections. "As a member of the Young Presidents Organization (YPO), I compare notes among leading CEOs and presidents of companies across the country. YPO's Global Pulse Survey of July 2014 shows business confidence levels at a three-year high. In the residential construction market, one of our focus areas, Bloomberg –Home Builders/Wells Fargo group recently reported that sentiment among homebuilders is at a high for 2014. This outlook was confirmed last month by the National Association of Homebuilders Consumer Confidence Report issued on August 25, 2014."
"As the nation's leader in third-party construction quality assurance services, it is also incumbent upon Quality Built to issue a note of caution on recent trends," Kramer mentioned. "Quality Built has the largest data bank of construction defect data and quality assurance program in the country. We have the "Big Data," if you will, on construction inspections and quality assurance. In Quality Built's White Paper Report entitled A Decade in Construction Inspections our empirical data revealed that the levels of quality in construction across all asset classes was at its lowest point just as we started to emerge from the worst of the real estate recession. We attribute this to some fairly simple facts. Currently, builders are under great pressure to meet increased delivery demands under shorter time deadlines with tighter cost controls. The increased demands and controls on production has been matched, unfortunately, with shortages of experienced and qualified labor and field management personnel who left the industry during the crash, as well as reduced in-house quality assurance programs which were cut during the challenging years. Industry estimates suggest that 40% of the qualified labor left the industry in the market crash and will never return to construction. This shortage of construction personnel will compound the problems for companies seeking quality professionals to construct quality product. So, in a sense, it is a "Perfect Storm" for construction defects as increasing demands combined with shortages of qualified personnel result in noticeable and measureable declines in quality construction and increased levels of defects."
Quality Built has responded to this "Perfect Storm" in a strategic way. Beth Michaelis, President of Quality Built, added, "Quality Built has moved quickly to assist industry builders and insurance companies by expanding our risk assessment protocols to integrate educational programs, trade contractors and internal QA metrics into a closed-loop process guaranteed to promote continuous improvement in a cost-effective manner. Our third-party quality assurance inspections serve as a second set of eyes in the field. For some builders that may mean traditional third-party quality assurance inspections and technical peer plan reviews; for other builders that may mean offering web-based technical training on construction defects and how to avoid them. Every builder's needs will differ based upon their market, internal resources and company culture, but the one thing that is consistent is that third-party quality assurance eliminates construction defects in a cost-effective manner."
"Based on our historical analysis, we have calculated that every dollar spent on quality assurance services generates almost a 400% return on investment." Michaelis added, "And that does not even take into account the opportunity costs and distraction as well as brand damage that builders experience as a result of lower customer satisfaction scores or construction defect claims."
For more information on the benefits of third-party QA, shoring-up or creating an internal QA process, integrating trade contractors into the quality assurance process or our educational platforms and a copy of Quality Built's ten-year study on QA and ROI, builders and insurance companies should contact Quality Built's President, Beth Michaelis, (beth(at)qualitybuilt(dot)com).
About Quality Built: Quality Built® is a leading, national, construction quality assurance and inspection management company with their primary offices located in Fort Lauderdale, Florida and San Diego, California. Quality Built provides third-party quality assurance services and a full spectrum of quality and risk management solutions nationwide.
Quality Built is well known for its work in Total Quality Management and was one of first firms to transition from using a traditional paper-based quality assurance approach into implementing a proven, user-friendly and fully-automated inspection system. Quality Built's proprietary software is cost-efficient, paperless, fully customizable and completely scalable to handle the demands of most inspection and quality assurance protocols.
Quality Built's Quality Management System is ISO 9001:2008 registered. For more information about Quality Built, contact Beth Michaelis, President, at bmichaelis(at)qualitybuilt(dot)com. Quality Built, 401 SE 12th Street, Suite 200, Ft. Lauderdale, Florida, 33316, 954.358.3503, http://www.qualitybuilt.com