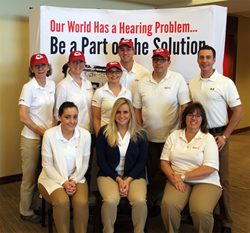 In partnering with the Kansas City Chiefs, our goal is to further hearing loss awareness and encourage greater adoption of hearing solutions throughout the community and beyond.--Clifford Carey, communications director of EarQ
Syracuse, NY (PRWEB) October 23, 2014
On October 21, the EarQ team provided the children of Kansas City with greater access to hearing healthcare services as part of the 2014 NFL & United Way Hometown Huddle event hosted by the Kansas City Chiefs at Arrowhead Stadium in Kansas City, MO.
Alongside other healthcare participants, like representatives from Team Smile the EarQ team, which included audiologists from Boys Town National Research Hospital in Omaha, NE, and Sertoma Speech and Hearing in Palos Hill, IL, offered hearing screenings and video ear inspections to local children.
"In partnering with the Kansas City Chiefs, our goal is to further hearing loss awareness and encourage greater adoption of hearing solutions throughout the community and beyond," said Clifford Carey, communications director of EarQ. "It is quite appropriate to host the event in Kansas City, given that just last year Chiefs fans broke the Guinness World Record for loudest crowd noise at an outdoor sports stadium with a decibel level of 137.5."
About EarQ:
A strategy and consulting firm that supports hearing healthcare providers nationwide, EarQ utilizes innovative business and marketing practices, national public awareness efforts and advocates for excellence in private patient care. Through its 1,400 hearing healthcare provider locations nationwide, EarQ will help provide greater access to quality hearing healthcare services and products.
http://www.earq.com
Like us on Facebook
Follow us on Twitter
About the NFL & United Way Hometown Huddle:
Since 1999, NFL teams have participated in a variety of hands-on community service projects, known collectively as Hometown Huddle. The NFL-United Way Hometown Huddle is a league-wide day of service designed to bring awareness and impact to the issue of youth health and fitness. During Hometown Huddle, NFL players, coaches and leadership participate in a variety of youth fitness projects in different NFL cities across the country on the same day—building fitness zones, hosting youth football clinics, rebuilding neighborhood playgrounds, upgrading fitness facilities, and more.