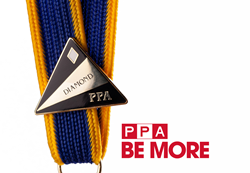 ATLANTA, Ga. (PRWEB) October 23, 2014
Professional Photographers of America (PPA) announced today its Diamond Photographers of the Year. The winners achieved PPA's highest competition honor at the International Photographic Competition (IPC) in August and will be honored and have their work displayed at Imaging USA in Nashville, Tennessee, Feb. 1-3, 2015.
A panel of 45 eminent jurors from across the United States selected the top photographs from nearly 5,000 total submitted entries at the IPC. Judged against a standard of excellence, just over 1,800 images were selected for the General Collection and 918 (roughly 18 percent) were selected for the esteemed Loan Collection—the best of the best. The Loan Collection images will all be published in the much-anticipated "Loan Collection" book and over 200 selected General Collection images will be published in the "Showcase" book by Marathon Press.
Only 26 photographers went four-for-four on their submissions, meaning all four of their images were accepted into PPA's Loan Collection. It's the highest honor one can achieve through PPA's International Photographic Competition in a given year.
"These photographers have reached a prestigious achievement," states Randy McNeilly, PPA's photographic exhibition committee chairman. "It takes dedication to achieve the consistent quality and creativity necessary to earn the title of Diamond Medalist in one of the world's most celebrated photography competitions. While they will be receiving this award at PPA's International Convention to be held February 2015 in Nashville, the real winners will be the clients who have commissioned the work!"
The 26 photographers will be honored at the Award and Degree ceremony at Imaging USA, the longest-running international photographic convention, expo and image exhibition in the world. The event dates back to 1880, when it began as the annual convention and tradeshow for Professional Photographers of America (PPA). More than 10,000 industry professionals will descend upon the Music City for three days of photography education and inspiration as well as some exclusive shopping.
Highlights of Imaging USA 2015 include the three-day Imaging Expo tradeshow, featuring more than 600 booths, giving photographers the exclusive opportunity to demo and purchase the latest products at discounted rates. The event also includes several all-inclusive parties and more than one hundred speeches, presentations and hands-on demonstrations by some of the most respected names in the photographic industry. Imaging USA also features mentoring opportunities, portfolio reviews and 10,000+ photographers to network with and create career-spanning relationships—a real bonus for photographers, who typically work for themselves.
New to Imaging USA this year will be a new mobile app and game, extended viewing hours for the International Photographic Competition (IPC) exhibit, a PPA Charities 5K and shoe drive, an opening night Super Bowl viewing party and a keynote presentation from acclaimed landscape photographer, Peter Lik, M.Photog.
PPA offers a free full-registration to Imaging USA as a perk for new members. Professional Active PPA memberships are available for $27.92 a month. For everyone else, there are many different ways to experience Imaging USA, including but not limited to the full conference, a full conference plus pre-conference courses option, tradeshow only and off-site classes throughout the surrounding areas.
Visit ImagingUSA.org for complete registration information and pricing options. And keep checking back for updates to the event schedule.
About PPA:
Professional Photographers of America (PPA) is the largest international non-profit association created by professional photographers, for professional photographers. Almost as long-lived as photography itself, PPA has roots that date back to 1869. It assists more than 27,000 members through protection, education and resources for their continued success. See how PPA helps photographers be more at ppa.com.