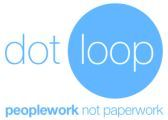 Cincinnati, OH (PRWEB) October 23, 2014
dotloop today announced that F.C. Tucker Company, the largest independent real estate firm in Indiana, has chosen dotloop to increase efficiency in the home buying and selling process for their clients and agents. The 700 agents at F.C. Tucker's 15 central-Indiana locations will now be able to close deals faster through dotloop's simple and seamless online transaction solution.
dotloop is the only all-in-one transaction solution, enabling agents to invite clients and other parties in a transaction to a "loop" where they can engage in the entire real estate process online, from offer to close. Brokers using dotloop's DASHBOARD+ are able to see the status of every deal happening across their office, as well as customize workflows and notifications.
"At F.C. Tucker, we pride ourselves on delivering quality customer service and a home-buying and selling experience that's both smooth and efficient," said Jim Litten, president and CEO of F.C. Tucker. "Enabling our agents to use the best technology has always been a priority for our company, which is why we turned to dotloop for transaction management. The emphasis on assisting us with a seamless rollout and the ability to scale with us were major factors in our decision."
F.C. Tucker is the largest independently owned, comprehensive real estate firm in Indiana. With more than 1,500 agents statewide and $3.2 billion in sales, it's also one of the largest independent firms in the nation. F.C. Tucker is a member of the Leading Real Estate Companies of the World, a collection of residential real estate firms that produce more home sales annually than any other real estate network.
"F.C. Tucker is the largest independent brokerage in Indiana for a reason; it starts with their commitment to client experience and agent productivity," said Austin Allison, CEO of dotloop. "This commitment to customer experience and agent productivity is precisely what made the dotloop solution an obvious fit, and we're honored to help F.C. Tucker elevate the bar in Indiana."
About F.C. Tucker
With more than $3 billion in annual sales, F.C. Tucker Company is Indiana's largest independently owned comprehensive real estate firm with more than 40 offices and more than 1,500 sales associates throughout Indiana and select markets in Kentucky. Less than one percent of all real estate firms have the longevity of F.C. Tucker. Founded in 1918, the company's family of businesses includes a full range of real estate services - mortgages, title insurance, relocation services, a full line of insurance products, auctioning and homeowner warranty products. F.C. Tucker has earned a reputation for its exceptional customer service, experienced sales associates and "Golden Rule" commitment to its clients and employees.
About dotloop
dotloop is the largest network in real estate, where more than 1.2 million professionals come together to get work done. dotloop enables agents, brokers and other professionals to complete an entire real estate transaction from start to close online, via an online workspace called a 'loop,' which brings people, documents and tasks into one online experience. Agents use dotloop to provide a better experience to their clients and close more deals. dotloop is the top broker choice and solution for real estate transactions, being selected four times more often than any other vendor, according to a study by REAL Trends Analysis. dotloop allows brokers to run a better business, by increasing visibility, retaining top talent and reducing operating costs.
The company is based in Cincinnati, Ohio and backed by Trinity Ventures. To learn more about dotloop, visit http://www.dotloop.com.
Follow dotloop on Twitter
Follow dotloop on Facebook
Follow dotloop on YouTube
Media Contact
Sara Pallas for dotloop
415-625-8555
dotloop(at)launchsquad(dot)com