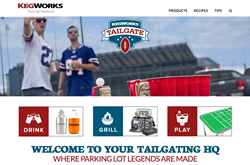 If you're a fan of any sport. If you're an avid concert-goer. Whether you tailgate in the parking lot or your living room, we have something for you.
Buffalo, NY (PRWEB) October 23, 2014
For some devout sports fans, the time spent before the game/match/race/concert is as important as the main event itself. For some, it simply involves showing up a couple of hours before the game with a grill, a cooler, and some chairs. For others, it's a day-long affair with themed food and drink(s), extravagant decorations, and equally elaborate equipment.
KegWorks has always catered to this market, but only with a small category page on their main website. "Before, we really only spoke to football fans, and that was maybe only once a year with an email or two," says Trisha Charles, KegWorks VP of Marketing and Product Development. "Now, we're going after fans of Nascar, horse racing, soccer, and more. If it's an event people tailgate for, we have something for them."
The development of KegWorksTailgating.com is part of a larger tailgating campaign KegWorks is running through the rest of 2014 and into the beginning of 2015. "We wanted to create a place for the serious tailgaters to go," says Charles. "For recipes, setup ideas, tips, and everything else they need for a game-winning tailgate."
Some of the products offered on the site include the "Instant Stein Beer Can Grip Handle," a simple plastic handle that attaches to a 12-ounce beer can to keep your hands warm and your beer cold; the "GoPlate," a tray that fits over a 12-ounce beer bottle, can, or solo cup, and holds your food, leaving you with an extra hand; a variety of games; and many grilling essentials.
"We're no longer talking to football fans alone," says Charles. "I spent last Saturday at a local horse race getting a feel for how people tailgate at an event like that. And it's not just for those who attend the events live. We also cater to homegaters. If you're a fan of any sport, if you're an avid concert-goer, we have something for you. Keep an eye out for more from us in the coming months."
Check out the microsite at http://kegworkstailgating.com/ and see the full selection of KegWorks tailgating products at http://www.kegworks.com/tailgating/ .
About KegWorks:
KegWorks is a leading multi-channel merchant of home and professional draft beer equipment, bartending tools, home brewing supplies, premium cocktail ingredients, and the world's best selection of novelty drink accessories. The KegWorks website was launched in 1998, and their flagship retail store opened in March of 2013. KegWorks is privately owned and continues to be recognized as one of the fastest growing companies in Western New York.