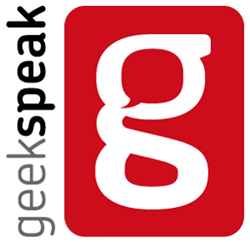 "When retailers engage their customers online, they sell more. Great product content is key to delivering an unforgettable shopping experience that converts browsers into buyers,"
Toronto, Canada (PRWEB) October 23, 2014
geekspeak[Commerce], an eCommerce services agency, announced today that it will be joining the line-up of Amazon Webstore Solution Providers, offering its content development expertise to retailers and manufacturers using the Amazon Webstore platform.
The Amazon Webstore platform enables merchants to take advantage of reliable Amazon technology to create their own stand-alone, easily customized, branded eCommerce site. Offering an array of content services ̶ custom description writing, translation, photography, image processing and content uploads ̶ geekspeak helps merchants deploying on the Amazon Webstore platform to quickly expand their online catalogue while ensuring consistency in content and user experience.
"Becoming an Amazon Webstore Solutions Provider offers a fantastic opportunity to work in partnership with merchants and help them fully develop their online brand, boost sales and extend their online reach," states geekspeak Founder Isaac Wanzama. "We produce content for thousands of SKUS each year, so we bring considerable industry knowledge of online retailing to the table".
"Smart Content Drives Commerce" is the philosophy behind geekspeak's approach to engaging online shoppers and nurturing the relationships that drive channel sales. The extensive team of geekspeak content creators can quickly generate rich, SEO-optimized product content across a broad range of categories, increase search engine results and appeal directly to target shoppers. geekspeak's professional product photography and imaging enhances online product merchandising, while time-saving content uploading services ensure product catalogues are built quickly. The end results benefit retailers and manufacturers using the Amazon Webstore platform through high-quality product content, faster product onboarding and increased online inventory.
"When you engage your customers in your online shop, you sell more. Great product content is key to delivering an unforgettable shopping experience that converts browsers into buyers," adds Wanzama. "By employing a content approach that resonates with shoppers, Amazon Webstore merchants can stay competitive and drive success in this channel."
About geekspeak
Founded in 2003, geekspeak[commerce] is a professional eCommerce services firm. With widely recognized expertise, geekspeak works with numerous retailers and content publishers. geekspeak offers a comprehensive combination of ecommerce services: best practice analyses, catalogue management, product descriptions, buying guides, product videos, technical manuals, translation and localization, image capture, SEO services and more ̶ all designed to help online merchants convert site visitors into buyers. geekspeak has been helping its clients to better engage their customers online for over 10 years. geekspeak's growing client portfolio includes widely recognized names such as Wal-Mart, BestBuy, Costco, RBC, Yellow Pages Group, Costco, Sport Chalet and more.
For more information about geekspeak[commerce], please visit:
http://www.thinkgeekspeak.com
http://www.thinkgeekspeak.com/webstore.html
http://webstore.amazon.com/b/9437534011
Call at 1.416.619.5349. Email: services(at)thinkgeekspeak(dot)com