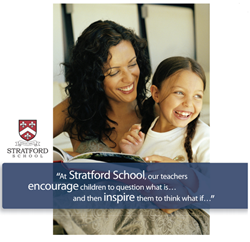 Stratford will waive the usual $75 application fee the day of the event.
Saratoga, California (PRWEB) October 23, 2014
Stratford School hosts an Open House on Saturday, November 1 from 10:00 a.m. – 1:00 p.m. at multiple Bay Area campuses. Plan a visit to discover what inspires Stratford's educational excellence.
Stratford will waive the usual $75 application fee the day of the event. Preschool, elementary, and middle school enrollment spots are offered on a first come, first served basis.
Click here to register for Stratford School's Fall Open House.
Stratford offers private preschool through 8th grade. Please visit the Campus Overview page on Stratford's webiste for grade level offerings at each of the following campuses:
Crestmoor Canyon (coming soon)
Danville Blackhawk
Danville Sycamore Valley
Fremont Boulevard
Fremont Curtis
Los Gatos
Morgan Hill
Palo Alto
Pleasanton
San Francisco
San Jose
San Jose Middle School
Santa Clara
Santa Clara Winchester
Sunnyvale De Anza Park
Sunnyvale Washington Park
"There's no more profound gift parents can give their children than the chance to discover what they are capable of - the chance to achieve all they can." - Stratford School
About Stratford School
Stratford School is an independent private school founded on the belief that education is a significant influence in the life of a child. Stratford offers an accelerated curriculum – particularly in the areas of mathematics and language arts – that incorporates music, art, science, technology, engineering, and physical education. Stratford's goal is to prepare and mentor students for admission to private high schools or advanced placement in public schools. All students are provided the necessary tools to excel, and are encouraged to actively participate in leadership, community service, and extracurricular activities.