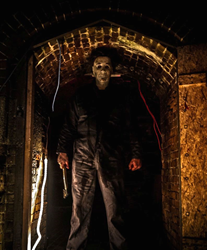 An array of creatures and monsters wait to take guests through a journey of frightening proportions
Newport, RI (PRWEB) October 23, 2014
As Halloween approaches, Fort Adams Trust presents the final weekend of FEAR at Fort Adams, Newport's premiere haunted attraction. Guests can look forward to walks through the haunted officer's quarters, midway games, Airsoft zombie rifle range and the infamous tunnels of terror.
"This is our tenth year doing FEAR at Fort Adams, formerly Fortress of Nightmares. What's great is that at this point most of the kinks have been worked out and we can focus on producing a spectacularly scary event year after year," says Dave Prata, FEAR producer and Fort Adams Trust Board Member. "We have had some scary characters throughout the years; usually one stands out above the rest. This year our most popular character is 'baby man.' I won't get into specifics for those who haven't come yet, but it's as creepy as you can imagine," adds Prata.
Executive Director of Fort Adams Trust, Rick Nagele says "As a 501 (c)(3) non-profit we try to find creative ways to raise funds to preserve and restore the fort. We can introduce new people to the fort with programs such as FEAR, while also letting them see that there still is work that needs to be done here. Plus, we love to get into the festivities of each holiday in order to give back to and celebrate with the community."
FEAR at Fort Adams is recommended for children and adults ages 12+. Those with prior medical conditions should be cautious as there is a lot of walking, strobe lights and fog machines included. FEAR at Fort Adams will be open October 24, 25 & 26 from 6-10 PM. Visit fear.fortadams.org for tickets and information.
About the Fort Adams Trust
The Fort Adams Trust is a 501 (c)(3) non-profit responsible for preservation, programming, and promoting the National Historic Landmarks in Fort Adams State Park in Newport, Rhode Island. Over 100,000 people tour the Fort and attend events in the Park annually. The Trust accepts donations to support its preservation and programming missions.
http://www.FortAdams.org
About Newport, Rhode Island
Newport, often called the City by the Sea, is also referred to as "New England's second global city." In addition to the incredible historic destinations and cultural activities, great restaurants and shops, and unrivaled scenic beauty, there is a cosmopolitan sophistication to the City. International visitors abound and you can hear multiple languages on the streets. http://www.discovernewport.org