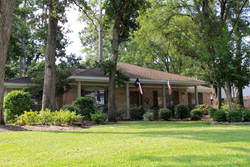 We know their mom, aunt, or great uncle. We know their families, explained Buckholtz.
The Woodlands, Texas (PRWEB) October 23, 2014
Assisted Living by Unlimited Care Cottages in Kingwood, Spring, The Woodlands, and Conroe, Texas, are no longer the best kept secret in senior living care in the greater Houston area, according to co-owner Terri Buckholtz.
"All of our homes are full because families are now choosing small, personalized homes over the larger facilities," said Buckholtz.
Why are people selecting the smaller cottages over the bigger nursing homes or hotel-like facilities? "We know their mom, aunt, or great uncle. We know their families," explained Buckholtz.
"We have an excellent line of communication with our residents' family members," Buckholtz continued. "We know our residents' meds, their level of activity, change in conditions, overall well-being and spirit on a personal level, like a family member would know them, and that is the difference," she said.
"At our cottages, caring comes naturally and each resident has the assistance that he or she needs in a private home setting," said Buckholtz. "With a limit of seven residents per cottage, except Kingwood which has 10, our homes provide the highest quality of individualized assisted living services," she continued.
The smaller homes are non-institutional and non-hotel-like and that is extremely appealing to families nowadays, according to Buckholtz. "Our assisted living homes are perfect for the elder who prefers a peaceful, family environment. Personalized care is able to be tailored to the individual's personal daily needs," she said.
They provide music therapy, bible studies, exercise classes, traveling hair stylist, and many other activities, according to Buckholtz. "We have wonderful caregivers who live in the cottages. They love our residents and care for them like family. We also have a Registered Nurse on staff," she said.
Buckholtz and all their caregivers consider the cottages their residents' homes. "We are guests in their homes," she explained. "We treat our residents with the dignity and respect they deserve", said Buckholtz.
About Assisted Living by Unlimited Care Cottages:
Residents who reside in their assisted living cottages range from those living independently to those who require 24-hour care. Owned and operated by Buck and Terri Buckholtz, who have 25 years of combined experience in health care and management. All of their Assisted Living Cottages are licensed by Department of Aging and Disability Services. For more information: call 713-419-2609, email info(at)unlimitedcarecottages(dot)com, or visit http://unlimitedcarecottages