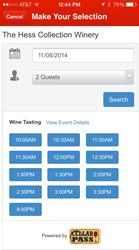 St. Helena, Calif. (PRWEB) October 23, 2014
CellarPass, the first online reservations system for winery, brewery and distillery tasting rooms and special events, announces a strategic partnership with Yelp. The marketing partnership marks the first integration of a reservation-based platform into Yelp's new transaction platform, and is a major milestone in the growth of CellarPass. While the partnership has progressed quietly over the last few months, Yelp put on the "finishing touches" and officially announced the news October 21 on the Yelp blog. In addition to booking with CellarPass through Yelp, now visitors can also have food delivered with the integration of EatStreet, ChowNow and Ordr.in, and book hotel stays through Hipmunk.
With CellarPass, anyone searching for wineries, distilleries and breweries can – with a couple of clicks on their desktop, tablet or mobile device – book tasting experiences and tours 24/7. Visitors will experience all of the benefits familiar to regular CellarPass users, including real-time availability, instant confirmations, and reminder emails, all without ever leaving the Yelp site. View DeLoach Winery's Yelp page, with CellarPass seamlessly integrated, here: http://www.yelp.com/biz/deloach-vineyards-santa-rosa.
"This partnership is a tremendous enhancement to our service – it gives our CellarPass member destinations immediate exposure to Yelp's more than 150 million visitors each year," said CellarPass co-founder Jonathan Elliman.
Launched in mid-2010, CellarPass is the leading real-time tour, tasting reservation and ticketing service that offers consumers easy and free access to confirmed tickets and reservations, online or through their popular mobile iOS app and mobile-friendly website. CellarPass enables beer, wine and spirit-lovers to search experiences at the most in-demand destinations in the United States, plan their visits via CellarPass' preference-matching search tools, make reservations and, with the guidance from the CellarPass iOS app, navigate to the destination or special event on time.
For tasting rooms, CellarPass provides a robust guest management platform vital to promoting their events to a nationwide audience while connecting with their guests in ways that enhance the visitor experience and build long-lasting relationships.
For more information about CellarPass, contact Sarah Elliman at (707) 255-4390, or email media(at)cellarpass(dot)com.
Follow CellarPass on Facebook at http://facebook.com/cellarpass and on Twitter at http://twitter.com/cellarpass. The CellarPass Reservations App is available for download in the Apple App Store and on the company's mobile-friendly website at http://www.cellarpass.com/mobile.