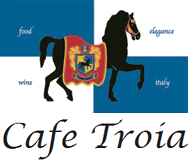 I am really excited about this dinner, we worked really hard to get a great list of wines and the kitchen has been preparing delicious dishes to join them. This should be a great event, it's a great value wine dinner for what you get.
Towson, MD (PRWEB) October 23, 2014
This October 30th, Cafe Troia will be hosting the Antinori wine dinner! Join Café Troia for a 5 course wine dinner featuring Antinori wines paired with culinary specials. Guest speaker Andrea Herd-Smith, U.S.National Manager for Antinori Wine Estates. Costumes are optional.
Cafe Troia's Antinori wine dinner wlll feature four fabulous wines, the first being Villa Bianco. Villa Bianco is a blend of 70% Trebbiano and Malvasia, 30% Pinot Bianco and Pinot Grigio. This wine has a straw yellow color with green highlights. Its aroma is reminiscent of bananas, orange flowers, and rose. Its initial texture is soft and flavorful, with the aromas persisting throughout. Villa Antinori Bianco was produced for the first time by Niccolò Antinori in 1931, and since that time the label has barely changed, as has the working philosophy its production, which aims at achieving a true "Super Tuscan" quality - a central characteristic of Antinori wine. Accompanying this wine will be Zuppa di Pesce, broth with fresh tomatoes, mink fish, shrimp, mussels, and calamari.
Next the dinner will feature Il Bruciato, a blend of 65% Cabernet Sauvignon, 20% Merlot, and 15% Syrah. From the Guado al Tasso estate, located approximately 50 miles (80 kilometers) to the southwest of Florence near the medieval village of Bolgheri. The property, some 2500 acres (1000 hectares) stretches from the Tyrrhenian seacoast to the interior hills and includes, in addition to more than 750 acres of vineyards, terrain utilized for the cultivation of wheat, barley, oats, and olives and woods where a herd of Cinta Senese pigs, a prized local breed, graze in the wild. Joining this wine will be a Piatto di Formaggi.
Le Maestrelle, also featured, is a blend of 60% Sangiovese, 20% Merlot, and 20% Syrah. The wine opens with a ruby red color with violet tinges. It has a full, intense aroma, which recalls red fruit and vanilla desserts. In the mouth the wine is fresh, smooth, and well-balanced with a complex persistence which recalls hints of vanilla and cocoa. With Le Maestrelle will be beet gnocchi with goat cheese in a rosemary, sage, butter sauce.
Lastly featured, the 2011 Marchese Antinori Chianti Classico shows aromas of great ripeness characterized by notes of such red fruit as cherries, raspberries, and red currants along with liquorice and vanilla. On the palate, the roundness and firmness of the tannins give much drinking pleasure despite the wine's young age. The lingering finish and aftertaste add length and enjoyment. The Marchese Antinori Riserva is produced only in superior vintages, utilizing exclusively the grapes of the Tignanello estate vineyards, located in the township of Mercatale Val di Pesa in the Chianti Classico appellation. With this delicious wine will be served wild boar with vegetables.
Speaking at the dinner will be Audrey Herd-Smith who joined Ste. Michelle Wine Estates in 2007 as the Business Development Manager in Metro New York for the Antinori portfolio. She was intrigued by the opportunity to represent and promote the Antinori family's nearly 630 years of wine-making history and their incredible portfolio of wines. In 2013, Audrey was promoted to the newly created position of National Business Development Manager, responsible for coordinating, leading and supporting the Antinori market specialists across the U.S. in their role of building the brand portfolio.
The dinner will end with Panna Cotta di Vaniglia with Eroica, a Reisling from the Chateau Ste. Michelle Wine Estates.
This wine dinner will be Halloween themed, with costumes being optional. The dinner will be hosted at Café Troia at 31 Allegheny Ave. in Towson at 6:30pm on October 30th. This will be a great time to unwind and enjoy delicious wines and food. Please RSVP to Café Troia at (410)-337-0133.