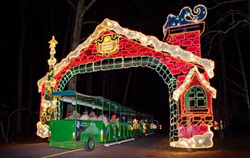 named one of the "Top 10 Places to See Holiday Lights" by National Geographic Traveler
Pine Mountain, GA (PRWEB) October 24, 2014
This holiday season marks the 23rd anniversary of Fantasy In Lights® – named one of the "Top 10 Places to See Holiday Lights" by National Geographic Traveler – at Callaway Gardens, a year-round travel destination south of Atlanta. Fantasy In Lights features 8 million lights stretching more than five miles, creating 15 larger-than-life holiday scenes.
Fantasy In Lights at Callaway Gardens sets Pine Mountain, Ga., ablaze from Nov. 21 through Dec. 30, 2014. Purchasing tickets in advance, meaning prior to the day of visit, is strongly advised and provides discounted price. Advance ticket prices* start at $17* for adults and $8.50* for children, children 5 and younger are always admitted for free. Tickets purchased on the same-day of visit are $28* for adults and $14* for children, and will be sold on a first-available basis.
To purchase overnight packages with tickets or tickets only, visit http://www.callawaygardens.com/fil or call 800.463.6990.
Unlike All of the Rest
Visitors experience the light and sound extravaganza on the "Jolly Trolley" or by driving through the lighted scenes in their personal vehicle. The sparkling, animated displays include Snowflake Valley, a winter wonderland filled with enormous snowflakes and thousands of white lights; Magical Christmas Garden with a 24-foot wreath entrance; and Santa's Workshop, showcasing animated versions of Santa's elves busy making toys for the big night. Two "don't miss" scenes are on Robin Lake Beach and are both narrated: 'Twas the Night Before Christmas and The Nativity. Each lasts approximately 10 minutes.
Ninety-nine percent of the frames used to create the scenes in Fantasy In Lights are custom designed and built just for Callaway Gardens, taking 3,900 hours to install. In keeping with Callaway Gardens' mission of connecting man and nature, every kilowatt of power used to light up Fantasy In Lights is compensated with "green" power. Callaway Gardens was the first destination in the Southeast to offset 100 percent of its electricity use by purchasing wind power credits.
Families experience the Christmas Village, a 22,000-square-foot indoor, heated area featuring visits with Santa and other holiday characters. Inside the Village, guests have the opportunity to shop for specialty food items from the Callaway Gardens Country Store®, unique gifts, nostalgic toys from simpler times and an assortment of holiday ornaments. An array of Georgia crafters are on hand making and selling their wares.
Special Dates for Fantasy In Lights 2014
Specialty Nights add excitement and interest to the festivities. Between Nov. 14-17 and Nov. 23, guests can choose from a variety of unique ways to experience the millions of lights. Friday, Nov. 14 is Pet Night. Bring your pet and peruse the brilliant lights by personal vehicle. Santa Claus will be available for pictures in Lane 4. Saturday, Nov. 15 is Motorcycle Night and Sunday, Nov. 16 is Bicycle Night. On November 21 will be the grand opening for the 23rd Fantasy In Lights season and will close on Sunday, Nov. 23 for foot traffic only for the March of Dimes Night Walk to benefit healthier babies.
To purchase overnight packages with tickets or tickets only, visit http://www.callawaygardens.com/fil or call 800.463.6990.
Saturday and Sunday visits with Mrs. Claus add to the Christmas cheer. Guests can join "Story Telling with Mrs. Claus," where guests can listen to Christmas stories, decorate cupcakes and more. Advance reservations are required. Visit http://www.callawaygardens.com/mrsclaus or call 1.800.852.3810. Seating is limited.
On Dec. 7, the famous Budweiser® Clydesdales will be showing off their fancy footwork and beauty from 3 p.m. to 5 p.m.
Collegiate football legend Coach Vince Dooley will be selling and signing his collection of books – a perfect gift for a football fan – on Saturday, Dec. 20, 3 p.m. to 6 p.m.
Relax and Enjoy More Than One Day
A variety of Fantasy In Lights overnight packages provide the opportunity to enjoy Callaway Gardens at a more relaxing pace. Packages start as low as $99** per night with the Fantasy In Lights Basic Ticket package in the Mountain Creek® Inn which includes:

Fantasy In Lights admission
Accommodations in the Mountain Creek Inn
Special Jolly Trolley loading area dedicated for overnight guests
A 2014 collectible commemorative Fantasy In Lights ornament
Admission to the world-class Gardens and its many attractions including the Day Butterfly Center, Sibley Horticultural Center, Callaway Discovery Center, live Birds of Prey Shows, seven miles of nature trails and our 10-mile Discovery Bicycle Trail.
The best value is the Fantasy In Lights Bed & Breakfast package which includes a hot, Southern buffet breakfast and a 2014 collectible commemorative Fantasy In Lights ornament – starting in the Mountain Creek Inn for $127** per night.
To purchase overnight packages with tickets or tickets only, visit http://www.callawaygardens.com/fil or call 800.463.6990.
Callaway Gardens' central location in the Southeastern United States and convenient location to Hartsfield-Jackson International Airport make it a unique and accommodating location for family gatherings, corporate holiday outings and more. Fantasy In Lights packages in the more spacious Southern Pine Cottages (sleeps up to eight) and Mountain Creek Villas (sleeps up to 16) and a variety of luxury vacation homes are available as well.
Award-Winning
The National Geographic recognition marks the latest for Fantasy In Lights, adding to a long list of honors received throughout its 22 year history. Additional recent honors include Atlanta Journal-Constitution (AJC) Access Atlanta's "Best Place to See Holiday Lights;" The Weather Channel's "Top 10 Places to See Holiday Lights" and the American Bus Association's "Top 100 Events in North America." Fantasy In Lights also has been recognized numerous times by the Southeast Tourism Society (STS) as a Top 20 event.
Callaway Gardens®, is in Pine Mountain, Ga., 60 minutes southwest of Atlanta and 30 minutes north of Columbus.
To experience the most spectacular holiday light and sound show in the South, visit http://www.callawaygardens.com or 1-800-352-3810.
###
*Ticket prices are subject to change. Tax and service fee are additional.
**Based on availability. Some restrictions apply. Not applicable to groups.
About Callaway Gardens
For more than 60 years, Callaway Gardens has provided "a place of relaxation, inspiration and a better understanding of the living world" for millions of visitors. Owned and operated by the non-profit Ida Cason Callaway Foundation™, Callaway Gardens includes a garden, resort, preserve and residential community on thousands of acres in Pine Mountain, Georgia. Highlights include a butterfly conservatory, horticultural center, discovery center, chapel, inland beach, nature trails and special events throughout the year.
In addition, Callaway Gardens offers more than 70,000 square feet of meeting space, 689 guest rooms, restaurants, shops, golf, tennis, fishing and more.
Five unique, close-knit residential communities — with custom home sites, lakefront properties and cottages on the golf course — offer an ideal home away from home or full-time residence.
Callaway Gardens is home to a forest preserve which is under conservation easement. This conserved, sustainably-managed land is used for biological studies and environmental education programs.