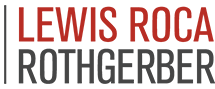 Denver, Colorado (PRWEB) October 23, 2014
Lewis Roca Rothgerber LLP is proud to announce that Julian R. Ellis, Stacy Kourlis Guillon, Andrew Helm and Stephanie A. Sweat have joined the firm's Denver office as associates.
Ellis joins the firm's litigation practice group, focusing on commercial and complex litigation. Before law school, Ellis worked at Wells Fargo and other financial institutions, where he underwrote and serviced syndicated loans and managed regulatory compliance. While in law school, Ellis served as Articles Editor for the Denver University Law Review and published several articles in the fields of bankruptcy law and securities regulation. Ellis competed as an oralist in the William C. Vis International Commercial Arbitration Moot in Vienna, Austria, and he is a member of the University of the Denver Law Alumni Council, the American Bankruptcy Institute, and the Christian Legal Society. Ellis holds a J.D., Order of St. Ives, from the University of Denver Sturm College of Law and an M.B.A., Beta Gamma Sigma, and a B.B.A. in Finance from Valdosta State University.
Guillon joins the firm's litigation practice group after having clerked for the Honorable Timothy M. Tymkovich on the United States Court of Appeals for the Tenth Circuit. Before attending law school, Guillon worked for a large business federation in Washington, D.C., where she managed an initiative to advise foreign policymakers on litigation safeguards. While in law school, she did extensive research on public lands policy, rangeland management and groundwater law for Water in the West and for the Bill Lane Center for the American West. Guillon graduated from Stanford University with a J.D. and an M.S. in environment and resources. She also holds a B.A., magna cum laude, from Dartmouth College.
Helm joins the firm's litigation practice group, where he focuses his practice on a variety of commercial and complex legal matters. Prior to joining the firm, he worked for the Colorado Division of Insurance, where he developed and implemented regulatory policy and legislative agendas. While in law school, Helm earned the Berenbaum, Weinshienk, and Easton Endowed Scholarship and was a Provost Scholar. He holds a J.D. from the University of Denver's Sturm College of Law and a B.S. in Public Management from Colorado State University.
Sweat joins the firm's business transactions practice group. Before joining the firm, she served as a law clerk for the Honorable James W. Hardesty on the Supreme Court of Nevada. While in law school, Sweat externed for the Honorable William V. Gallo at the United States District Court, Southern District of California, and worked as a law clerk at Kirby Noonan Lance & Hoge, LLP. She also served as Managing Editor for the San Diego International Law Journal and participated in the William C. Vis International and Commercial Arbitration Moot in Hong Kong. Sweat holds a J.D. from University of San Diego School of Law, cum laude and Order of the Coif, and a B.A. from Boston University. Sweat recently relocated to Colorado from Nevada; she is licensed to practice law in both states.
About Lewis Roca Rothgerber LLP
Lewis Roca Rothgerber LLP is one of the largest law firms in the Western U.S. The firm maintains thriving practices in intellectual property, litigation, real estate, business transactions, gaming, banking, bankruptcy and energy and natural resources with more than 250 attorneys across nine offices including Denver, Colorado Springs, Phoenix, Tucson, Albuquerque, Casper, Las Vegas, Reno and Silicon Valley. For additional information, please visit http://www.LRRLaw.com.