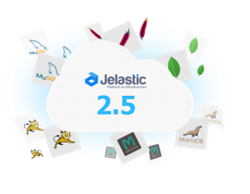 It contains two of the most demanded features - adding multiple nodes of different middleware layers in one environment and automatic horizontal scaling of app servers.
Palo Alto, Calif. (PRWEB) October 28, 2014
Jelastic, Inc., the first company that combined Unlimited PaaS (Platform-as-a-Service) and IaaS (Infrastructure-as-a-Service) in one solution, announced today a new Jelastic version 2.5 with support for multiple nodes of different stacks, automatic horizontal scaling of app servers, and Marketplace expansion. Last month in version 2.4, Node.js was introduced to enhance Jelastic's multi-language PaaS capabilities. The polyglot platform also supports popular programming languages, Java, PHP, Ruby and Python (.NET will be available soon).
Horizontal scaling of application servers has always been a distinguishing Jelastic feature, provided from the very beginning of its development. It allows users to increase/decrease the number of application servers their environment includes; in the case it is required due to the changes in an application's load.
Starting from this release, horizontal scaling of application servers can be achieved not just manually but also automatically, with the help of triggers. Simply set up the required trigger depending on the application's resource consumption and get your application servers scaled up and down, when it is required. Jelastic automatic horizontal and vertical scaling gives the best option for innovative and legacy applications, and makes Jelastic the most powerful PaaS in term of scalability/elasticity.
The current Jelastic release (2.5) provides the ability to scale not just the application servers, but all middleware stacks in an environment:
● Database
● Load Balancer
● Cache instance
● Elastic VPS
All newly added nodes are automatically distributed at different hardware nodes, ensuring even more reliability and high-availability.
"We are thrilled to announce a new version of Jelastic as it contains two of the most demanded features - adding multiple nodes of different middleware layers in one environment and automatic horizontal scaling of app servers. As a result, users can easily have several load balancers or databases together with multiple app servers and configure a highly available and reliable application in just a couple of clicks. Jelastic is the only cloud platform that fully automates the creation of complex environments for real enterprise applications that require clustering, high availability and scalability on different application layers," said Ruslan Synytsky, CEO of Jelastic.
This release includes significant usability improvements of the Marketplace section at Jelastic's dashboard, offering more than two hundred applications, which can be automatically installed within an appropriate environment, in just one-click.
All of the applications are divided into corresponding categories, allowing a user to choose among the provided solutions. In addition, a search box has been added, aimed to facilitate the process of searching for a particular application among dozens of available ones. You can initiate the installation of several applications simultaneously. While installation is in progress, you can keep working within the dashboard with other functionality, without need to wait until the process is completed.
"I think the most exciting thing about version 2.5 is the multi node scaling feature, especially being able to add multiple database nodes. This will really help our customers to scale and make their applications more resilient," said Joakim Öhman, CEO at Elastx. "Our key success factor is obviously that Jelastic provides a platform that is embraced by our customers. At Elastx, we want to be known for providing excellent local technical support to our end users. By doing this, we keep an "ear to the ground" and the fact that Jelastic really listens to feedback from the community to improve the product is just fantastic."
Additional improvements and features in Jelastic version 2.5:
● Updated software stack versions
● GIT Garbage Collector
● Facilitated process of SSH connection to the containers
● New Apache and NGINX modules for PHP apps
● Cartridges enhancements
● Improved templates management via JCA (admin panel)
Jelastic engineers have also added general UX improvements including environment aliases which can be seen by logging into the platform's dashboard.
"We are excited to share with our users the new multi node scaling feature which has been one of the most requested items since the launch. As a rapidly evolving platform made for developers, we are witnessing rapidly growing adoption of Jelastic PaaS from developers that are tired of self-managing and patching the hosting infrastructure currently on different IaaS vendors," said Lauri Kasti, CEO at Planeetta Internet.
About Jelastic
Jelastic, Inc. provides enterprise software that re-defines the economics of cloud deployment and management. Jelastic is the first company to deliver a Platform-as-Infrastructure solution, combining the ease of use (developer's productivity) of PaaS and the flexibility (agility) of IaaS within a single platform, for a fraction of the cost of existing virtualized environments. Jelastic is a venture-backed enterprise software company that enables enterprises, OEMs, integrators and hosting service providers to unleash the full potential of the cloud to generate superior ROI and efficiencies. For more information or to start a free, two-week trial, visit us at http://www.jelastic.com.