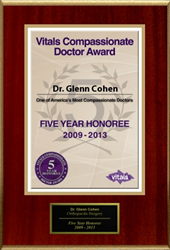 This is quite an honor for me. I am very pleased to have been selected and grateful to my patients who went out of their way to rate me and give me positive reviews
Westlake Village, California (PRWEB) October 24, 2014
Each year, nearly 100 million patients across the U.S. access websites like Vitals (http://www.vitals.com), UCompareHealthCare (http://www.ucomparehealthcare.com), and Patients' Choice (http://www.patientschoice.org) to provide feedback about experiences with their physicians.
Only those physicians with near perfect overall and bedside manner scores, as voted by their patients, are selected for the Compassionate Doctor recognition. Of the nation's 720,000 active physicians, only 3% were accorded this honor in 2014.
The Compassionate Doctor certification is part of the Patients' Choice recognition program, where patients rate and vote for their favorite doctors.
About Dr. Glenn Cohen: a short profile by and about the honoree:
Glenn D. Cohen, M.D. is certified by the American Board of Orthopaedic Surgeons. He is subspecialty trained and possesses a subspecialty certificate in surgery of the hand. Dr. Cohen treats disorders of the hands, wrists, forearms and elbows. Not all problems require surgery. The majority of Dr. Cohen's patients are managed with a course of splinting, therapy, injections and medications. Dr. Cohen is well versed in both non-operative and surgical care of all disorders.
For more information on this Compassionate Doctor, please visit Dr. Glenn Cohen's profile on Vitals.com.
Following the publication of Dr. Glenn Cohen's selection as a Compassionate Doctor five years in a row, American Registry seconded the honor and added Dr. Cohen to The Registry™ of Business Excellence. An exclusive recognition plaque has been designed to commemorate the honor.
For more information on Dr. Glenn Cohen, located in Westlake Village, CA please call 805-370-6877, or visit http://www.handsurgeon.org.