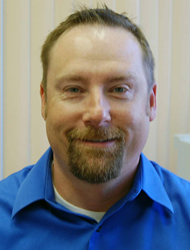 Sullivan, MO (PRWEB) October 23, 2014
John Walburn, an experienced customer service executive, has joined Fidelity Communications as Vice President of Customer Care.
He comes to Fidelity from Consolidated Communications, where he most recently served as Director of Product Management. In that role, he was tasked with improving the consumer data products and also acted as the senior level manager for the Kansas City market.
Prior to that, Walburn served as Director of Customer Care for Consolidated for 12 years. He started his customer service career with Everest Broadband in Lenexa, Kansas, and worked his way up to eventually head that department. He was part of a team that built their call center from 14 agents to over 60 agents in one year and increased the customer base from 2,500 to nearly 25,000.
Everest was eventually purchased by SureWest Communications and later by Consolidated. Walburn stayed on and headed the Kansas City call center before moving to product management.
Walburn plans to continue Fidelity's practice of making each customer's needs a priority. "Definitely the customer comes first," he said. "They are the lifeblood of the company. We need to treat them with respect and handle their problems immediately. One-call resolution is very big in my book."
He also plans to implement a knowledge-based system to help Customer Care technicians solve customer problems more quickly. For example, a customer may need help connecting an iPhone or Samsung Galaxy to their wireless network and want someone to "walk them through it," he said. If the tech is unfamiliar with the correct settings, the system would provide text instructions and screenshots allowing the tech to see what the customer sees.
In his position with Fidelity, John will be responsible for the overall success of Fidelity's customer service. His home office will be in Sullivan, Missouri, but he will travel to all Fidelity markets in five states— Missouri, Oklahoma, Arkansas, Texas and Louisiana.
"I'm excited for the opportunity to be here and work with such a great team," Walburn said. "I'm very impressed with the family type atmosphere here. Everyone is very willing and eager to do the right thing for their customers. It's amazing. I've met the care group, the Help Desk, dispatch and they all have the same philosophy. It's very much customer oriented."