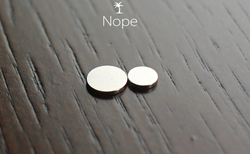 Chicago, IL (PRWEB) October 23, 2014
Bungajungle's online store is having a store wide sale until November 2 on all of its online products. All of Bungajungle's products have come from successful Kickstarters. This means they are unique and were developed by the demand of backers who saw the need for the new products.
Bungajungle currently also has one of the most popular products on Kickstarter. Their project Nope has almost 6000 backers with 28 days still remaining.
The company focuses making better digital and mobile experiences through ergonomics and hands free use of devices.