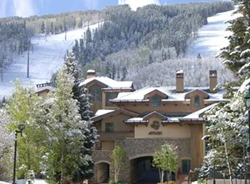 "We enjoy offering our guests an early opportunity to taste the wares of Vail's first craft distillery," says Antlers at Vail GM Rob LeVine.
Vail, CO (PRWEB) October 23, 2014
Some 70 years after they first arrived at Camp Hale near Vail, Colo., the stalwart men of the 10th Mountain Division are making history again – this time as the focus of Vail's first craft distillery, 10th Mountain Whiskey & Spirit Company. To celebrate both the local history and the opening of 10th Mountain Whiskey & Spirit's new Vail tasting room – one of Colorado's hottest new apres-ski options – Antlers at Vail hotel has partnered with the distillery to offer guests a sip-and-stay lodging and tasting package. Available through Dec. 21, 2014, the package includes two nights at the Antlers and a visit to the 10th Mountain tasting room for a chance to savor the spirits, locally crafted with Colorado-sourced Olathe corn, Palisade peaches and water from pure Rocky Mountain snowmelt.
10th Mountain Whiskey & Spirit was founded by Vail restaurateur Ryan Thompson and Vail entrepreneur Christian Avignon, grandson of a 10th Mountain Division medic. "The patriotic men of the 10th brought diversity, courage, and hope to the Rocky Mountains when they arrived in the 1940s to train just a few miles south of what is now Vail," the 10th Mountain Whiskey's website states. The 10th Mountain Whiskey crew credits the military division with founding the mountain lifestyle enjoyed by so many today and is committed to paying homage to their rugged ideals – including by donating a portion of sales to the Wounded Warrior Project, Vail Veterans Program, and the 10th Mountain Division Hut Association.
"We love the 10th Mountain connection with Vail's history," says Antlers at Vail GM Rob LeVine. "At the same time we enjoy offering our guests an early opportunity to taste the wares of Vail's first craft distillery. Whether they opt to come in fall and make the craft bourbon and whiskey experience the focus of the trip or come a little later in the year and combine it with early-season skiing, it's fun to be part of all the buzz around Colorado's growing craft spirits industry – and of 10th Mountain's strong connections to the Vail community and commitment to a quality local product."
The Antlers at Vail sip-and-stay 10th Mountain Whiskey package offers guests two nights for two people in a one-bedroom suite plus a visit for two to the 10th Mountain Whiskey & Spirit Company tasting room at 286 Bridge Street in Vail. The tasting includes a flight of five tastings, a souvenir rocks glass and a $5 certificate to spend toward merchandise for each person. Package rates are $392 for two people (double occupancy) through Nov. 20, and $454 from Nov. 21 – Dec. 21. Package rates are based on availability; tax not included. Some two-bedroom packages are also available; call for pricing.
10th Mountain Whiskey & Spirit Company produces its spirits in its 7,000-square-foot distillery in Gypsum, Colo. Local ingredients, including grains from farms in central Colorado and the state's familiar wild sage, were sourced to produce the craft distillery's first offerings, a corn moonshine, a rye whiskey, a Bourbon, a potato vodka and a sage-infused, peach-vanilla cordial. "We want to hang our hat, so to speak, on our whiskey and bourbon lines so we'll be producing a number of different expressions as our distillery matures," says Thompson of the company's future plans. For more information visit http://10thwhiskey.com.
About the Antlers at Vail:
The Antlers at Vail hotel offers a relaxed Vail, Colo., lodging experience in a fabulous mountain setting. The hotel is a perennial recipient of the TripAdvisor Certificate of Excellence and recognized as a TripAdvisor GreenLeader. The Antlers recently unveiled a new logo, website and luxury upgrades to its condominiums, which range from studio suites to four-bedroom penthouses. Every unit at the Antlers enjoys a fully-equipped kitchen, fireplace, private balcony, daily maid service, and complimentary wi-fi and parking – and the Antlers never charges resort fees. The hotel enjoys an A+ location on the banks of Gore Creek, just steps from restaurants, galleries, shops, the free Vail town shuttle and the Lionshead Gondola, and Antlers' staff is known for its cheerful personalized response to any guest request. For more information, call 1-800-843-8245 or visit http://www.antlersvail.com.
Contact:
Anne Parsons, WordenGroup Public Relations, anne(at)wordenpr(dot)com, 303.777.7667