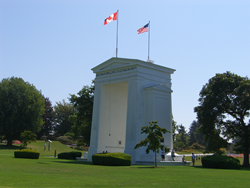 Pardon Services Canada advises clients not to risk trying to cross the border with a criminal record.
(PRWEB) October 23, 2014
Individuals with a criminal record from the United States are likely to be denied entry into Canada. Even if there was only a charge without a conviction, there is still a strong likelihood that the charge will appear on the screen of the border crossing official in Canada, since the US and Canada share a criminal record database. Pardon Services Canada advises clients not to risk trying to cross the border with a criminal record. Not only is it illegal but it can also lead to denied entry and in some cases, detention.
Canada weighs a conviction in the United States against its own legal statutes. A misdemeanor in the Unites States may be considered a more serious offence in Canada. For example, a DUI/DWI in the United States can easily bar a person from entering Canada unless they have been granted either Criminal Rehabilitation status or a Temporary Resident Permit.
Eligibility for Criminal Rehabilitation status is dependent on factors such as how serious the crime was, whether one or more crimes were committed, and by the length of time since the sentence was completed. The experts at Pardon Services Canada can assist clients with determining eligibility and completing the required paperwork.
If the convictions are from both the United States and Canada, a Record Suspension from the Parole Board of Canada is required as well as Criminal Rehabilitation status in order to enter Canada. It is important to note that in this situation, an application for rehabilitation cannot be made until a Record Suspension has been granted. The only exception to the requirement for a Record Suspension would be if there was only one summary conviction in Canada.
Since Criminal Rehabilitation application processing times can be up to a year, Pardon Services Canada recommends starting this process well in advance of plans to travel to Canada. To learn more about Record Suspensions, Temporary Resident Permits and Criminal Rehabilitation, call Pardon Services Canada and read more on the Pardon Services Canada blog.
About Pardon Services Canada
An industry leader in helping individuals overcome the obstacles of a criminal record. Since 1989, Pardon Services Canada has successfully assisted over 100,000 Canadians exercise their lawful rights under the Criminal Records Act of Canada, and the Immigration and Nationality Act of the United States. Services include US Entry Waivers, Canadian Entry Waivers, Record Suspensions (formerly called Pardons), and fingerprinting. Offices are located in Vancouver, Calgary, Toronto, Edmonton, Ottawa and Montreal. Call toll free 1-866-972-7366 or visit the website Pardon Services Canada