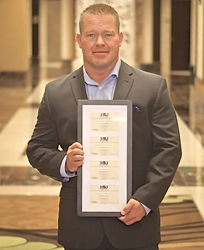 "This program has given me the ability to launch that business with the latest technology and on very affordable terms..."
San Luis Obispo, CA (PRWEB) October 23, 2014
Newly established business My Sierra Perks recently implemented a cutting-edge mobile-customer loyalty-marketing program for merchants in the Truckee Meadows area. Developed by the SMS Masterminds™ mobile/digital services division at SpendSmart Networks, Inc. ("SpendSmart"), a publicly traded company (OTCQB: SSPC), this unique system's technology enhances the business-consumer relationship by enabling businesses to consistently reach and reward their customers—driving sales and return visits via text-message (SMS) coupons and promotions.
This business venture became possible through SMS Masterminds' "Heroes Among Us" program. The program offers honorably discharged veterans a unique market exclusive software license available at a substantial financial savings over the standard Masterminds licensee program.
The program was launched in December of 2013 and has been greatly accepted and utilized by honorably discharged veterans including Sean McCartin the owner of My Sierra Perks. McCartin served in the United States Marine Corps and was eager to have the opportunity to launch his business, enabling him to utilize skills and knowledge gained from his time of service. "I have always wanted to start my own business that helps others in some way. Affording the start-up costs and having the support needed to be successful has always been an obstacle. This program has given me the ability to launch that business with the latest technology and on very affordable terms, including a portion of the start-up cost financed at 0% interest. Now that's a tangible way to give back to veterans," says McCartin.
Alex Minicucci, CEO of SpendSmart, added, "I'm passionate about helping veterans, who have sacrificed so much for our country. We believe this is a very meaningful way to give back to those who protect our freedom, while also adding talented, driven individuals to our licensee network."
ABOUT MY SIERRA PERKS:
My Sierra Perks is part of more than (150) markets throughout the United States, Canada and Mexico in SpendSmart Networks' (OTCQB: SSPC) licensee network. Headquartered in San Luis Obispo, Calif., the SpendSmart Networks loyalty rewards and mobile marketing system has successfully increased business owners' profits for over half a decade. SpendSmart's network is expanding due to the quantifiable results they've catalyzed for businesses across the country, and the Masterminds Division was recognized as the 66th fastest-growing software company on the Inc. 5000 list (2013).
If you are interested in My Sierra Perk's loyalty rewards kiosk, visit MySierraPerks.com or contact Sean McCartin at 775-685-3423 or Sean(at)MySierraPerks.com.
ABOUT SPENDSMART NETWORKS:
Founded in 2007 and headquartered in San Luis Obispo, Calif., SpendSmart Networks, Inc. focuses on connecting merchants and consumers through its suite of services that includes digital engagement, mobile marketing and financial tools. These services are implemented and supported by a vast network of certified digital marketing specialists, aka "Certified Masterminds," who drive revenue and consumer relationship for merchants via loyalty programs, mobile marketing, mobile commerce and financial education, such as prepaid card & reward systems. Consumers' dollars go further when they spend it at amongst the SpendSmart Network' of merchants, as they receive exclusive deals, earn rewards and build a connection with their favorite merchants. Digital Customer Loyalty at its finest.