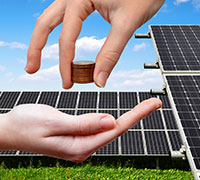 The simple spike in solar efficiency has came from the enhanced ability
(PRWEB) October 24, 2014
Looking back, it wasn't so long ago that solar panel installations were seldom, and mainly done by energy activists alone. It was never a practical option for the average consumer, however in the last few years, this has dramatically started changing. Since the price of traditional energy has steadily been on the rise, prices for green energy systems have been plummeting. This drop is partially due to more efficient production and installation of solar products. GTM Research explained,"residential solar installations have dropped 21.8% to $5.46 per watt since the beginning of 2010." More efficient panel installations are the driving force behind the price changes and increase in usage. The installations are not only easier for companies but their panels produce more energy than ever before.
Green power has quickly solidified itself as a practical and secure investment for any homeowner looking to save. Certain companies design sleek and elegant panels to blend in with homes so they look nice while saving money. Dean from SPSC explains his theory on helping homeowners with these more mainstream and efficient panels.
"The state of the art technology in our high performance solar system today allow us to focus more on the people whose residence we power, and secure long term investments in a more affordable way for them," explains Dean. As renewable energy becomes more mainstream it no longer takes such major projects to install a system. Residential and commercial property owners alike as of late are no longer overlooking the financial advantages of solar. Average consumers are beginning to fuel the growth of the solar panel industry as a whole.
The simple spike in solar efficiency has came from the enhanced ability of enriched photovoltaic cells inside the panels to absorb photons from the sun. In basic terms, the system is able to produce more energy with less panels. What this means to consumers is a new energy system providing automatic monthly savings for the next twenty years with zero dollars down. Those industry standards have paved the way for such a rise in mainstream usage. It has evolved from solely being an environmentalists pursuit, to a valid economically correct decision for the average homeowner. To see residential solar options such as leasing and purchasing head to http://www.solarpanelsystemcost.com
With all the brilliant advantages solar has to offer it still represents only less than 1% of the U.S power market. As a whole, it seems the evolving of solar technology and constant increase of utility rates is the perfect crossroad for the solar panel industry to go mainstream.