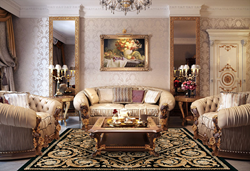 San Diego, CA (PRWEB) October 23, 2014
Gorgeous Rugs has released the 2014 silk rug buying guide. This guide provides prospective rug buyers with details on the different types of silk and the wide range of variations in rug styles and quality. The guide also includes a brief history of silk rug making and a glossary of important terms that buyers need to know before investing in a silk rug.
While buying silk rugs online can be cheaper and more convenient than in-store purchases, unless buyers know exactly what to look for, they risk buying a rug of inferior quality and craftsmanship. Gorgeous Rugs suggests that rug buyers always check the return policy for the company they are dealing with upfront. There should always be a risk-free return policy that allows the buyer to cancel the order without a restocking fee or return penalty.
Buyers should also check closely on the material of the rug they are interested in. Ask the seller if the rug is a silk blend (wool/silk) or pure silk. Pure silk rugs are much more expensive and labor-intensive to produce than silk blends and as a result, their cost is usually significantly higher. If buyers find a pure silk rug at a very low price that is too good to be true, the odds are it probably is.
Finally, buyers should ask about the craftsmanship of the rug. often times, machine made rugs are passed off as handmade and the buyer does not realize this until the rug shows up at their door. Always inquire about the skill and experience of the weavers that created the rug you are interested in too. Check out the silk rug guide, offered free from Gorgeous Rugs for more helpful rug buying tips.
About Gorgeous Rugs: Gorgeous Rugs produces the finest quality silk rugs in the world. Using only the best quality, pure caterpillar silk, their rugs are woven completely by hand and take an average of 2-3 months to complete.