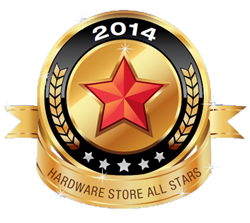 HCN's All Stars are selected through a combination of factors, including strength and frequency of nominations, evidence of innovation and investment in the future, and conduct becoming of an All Star.
(PRWEB) October 23, 2014
Independent Houston hardware store Cox Hardware and Lumber is reaping rewards from the risk it took with a major investment in its online store http://www.coxhardware.com. Their success as a merchant and their commitment to employing modern technology has been recognized by Home Channel News [HCN] with their selection as a 2014 All Star.
The criteria for becoming an All Star is given by the editor of Home Channel News, Ken Clark: "HCN's All Stars are selected through a combination of factors, including strength and frequency of nominations, evidence of innovation and investment in the future, and conduct becoming of an All Star."
Cox Hardware's history of embracing opportunities by employing new technology goes back to 1981 when they were one of the early adopters of the Eagle computer system. They continue to leverage technical advances for managing inventory as seen in this video produced by Eagle ERP system manufacturer called Inventory Management Best Practices with Cox Hardware:
http://youtu.be/q3B3gwgWrnw?list=PLN-W65clne9S2UxqxSxnis2YgVCwLKrcO
While many independent hardware stores have not seen eCommerce as an essential activity worthy of extra staff, this Houston hardware store has invested both website development funds and the labor of 2 employees to create their current online store at http://www.coxhardware.com. Employees and management together have crafted descriptions, developed product taxonomy and obtained product images – shooting in-house photos when needed – for about 30,000 products. The store's ongoing attention to accurate inventory carries over to the website, which is integrated with their in-store inventory management and point-of-sale system. Cox Hardware's current online store incorporates wisdom and lessons learned from 15 years of having a website.
Several customizations have been applied to the original eCommerce software for example, their online store features 3-decimal pricing. Quantity discounts are offered on most products. Customers can find products via a strong keyword search, a product index or ability to browse by brand. Icon badges help to easily identify products made in the USA (as well as other features) at a glance. Business customers with store accounts can log in to use their store credit accounts to make purchases. Cox Hardware has also implemented numerous other custom features; all intended to make it easier for online visitors to use the site, find products and easily make their purchases.
Cox Hardware primarily wants their online store to serve their local customers including many local businesses. However, they also have a significant amount of customers outside of their local area for products such as Gatorade powder [http://www.coxhardware.com/c-177-gatorade-and-thirst-quenchers.aspx and Markal markers [http://www.coxhardware.com/c-178-markal-markers-mark-anything.aspx .
"The website was designed with the customer in mind," says owner Virgil Cox. The physical store is also run with the customer in mind, featuring helpful knowledgeable sales staff along with the ability to order ahead via phone, fax or website for fast easy pickup and a drive-thru lumber yard. Meet Cox Hardware's award-winning staff in this video: http://www.coxhardware.com/t-about.aspx.
An All Star Hardware store is one that thrives in the shadow of major competition. Cox Hardware and Lumber thrives in one of the largest markets in the nation replete with big-box home centers operated by publicly traded companies [6 within a 10 mile radius], as well as all of the largest industrial suppliers – all of which have a serious online retail presence. Through customer interaction, Cox Hardware knows that some of its customers have driven up to an hour to make their purchase from Cox Hardware after finding what they want online. The store is operating at capacity. Cox Hardware and Lumber is truly an independent hardware store success story.
About Cox Hardware & Lumber, Inc.
Cox Hardware & Lumber Inc is an independently-owned Houston hardware store and industrial supplier located in Houston's historic East End, 3 miles east of downtown Houston near the upper Houston Ship Channel. The company has had continuous store ownership and management by the Cox family since 1946. Physical location: 1923 Wayside Drive, Houston, Texas 77011; Online location: http://www.CoxHardware.com. Cox Hardware's passion for customer service is evident in its bilingual staff, commitment to get what a customer needs even if it means a special order, determination to make sure that inventory information is accurate and providing multiple ways to shop: in-store browsing, fax, phone, chat, online browsing, and online search.