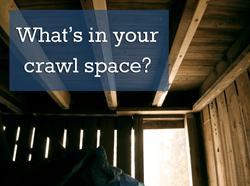 You invested in purchasing your home — shouldn't you invest in protecting it as well?
Everett, WA (PRWEB) October 30, 2014
Clean Crawls, a company servicing Everett, WA that specializes in cleaning, insulating and servicing attics and crawl spaces, recently released a new article alerting homeowners of the importance of a good vapor barrier in their crawl space.
"We all know that the Pacific Northwest is a rainy, damp region. But this doesn't mean that our houses have to be," they say, before continuing,
"Having a crawl space vapor barrier protects your home from the excess moisture rising from the exposed earth below. That moisture can cause big problems."
The article explains that while it might be natural instinct for homeowners to take an 'out of sight, out of mind' mentality to their crawl space, the crawl space actually has an enormous impact on the health of the home. They explain that crawl spaces with insufficient or nonexistent vapor barriers are much more likely to sustain moisture damage.
Moisture damage, as they state, can take on many forms. They briefly advise homeowners on the various risks, such as wood rot to the support beams, warping of the sub floor or floor itself, mold growth, and insect or pest infestations. None of these are desirable for any homeowner, and most of these problems will be a substantial, if not crippling, expense for the homeowner.
To learn more about Clean Crawls vapor barrier installation services, click here.
"Clean Crawls specializes in the proper installation of vapor barriers throughout Seattle, Everett, and Snohomish and Skagit Counties for your crawl space," says Clean Crawls. "You invested in purchasing your home—shouldn't you invest in protecting it as well?"
About Clean Crawls:
Clean Crawls provides attic and crawl space cleaning, weatherization, and insulation services. Homes and businesses alike have the opportunity to be clean and healthy at affordable rates, as well as save energy throughout the year. Visit http://www.cleancrawl.com today for more information and a free quote.
3707 124th St NE
Marysville, WA 98271
(866) 651-1700