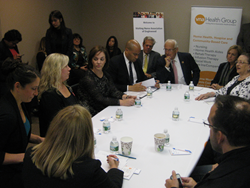 Englewood, NJ (PRWEB) October 23, 2014
U.S. Senator Cory Booker (D-NJ) and U.S. Representative Bill Pascrell (D-09-NJ) met yesterday at Visiting Nurse Association of Englewood, for a roundtable discussion with unpaid caregivers to discuss the In Home CARE (Caregiver Assessment, Resources & Education) Act that would provide training and resources for Americans who care for family members at home.
"Family caregivers allow people to stay at home connected to their communities and help improve the quality of life of the loved ones they care for," said Representative Pascrell. "In talking to family caregivers in New Jersey, they all say they need the same thing – more support. This legislation aims to give them just that."
"More than 65 million Americans are caregivers and upwards of half of them are performing complex medical procedures around the clock," said Senator Booker. "Caregiving is a trying experience for families and the In Home CARE Act was created to help informal, unpaid caregivers where they provide care, at home."
The legislation would establish competitive grants to public and non-profit organizations to develop and deliver family caregiver home visiting programs that would include training, education and other resources.
The roundtable was attended by family caregivers who shared their own personal experiences, as well as representatives from the Home Care Association of New Jersey, Parkinson's Action Network, National Parkinson Foundation, and the Alzheimer's Association.
"The needs of my parents often come first, even before I start my day for work or for my family," said Karen Reiner of Englewood, NJ. She cares for her aging parents while being a mother, wife, grandmother and working full time.
Charlene Narciso of Summit, NJ was forced to quit her job in order to care full-time for her husband Joe who is living with Parkinson's disease. "He requires 24-hour care and we have three school-age children who are dealing with his illness differently, she said.
"There are so many gaps in meeting the needs of caregivers," said Sherl Brand, RN, Chief External Affairs Officer at VNA Health Group and the roundtable moderator. "We have a role as health care providers, but we can also collaborate with you [legislators] and the caregivers around the table to address these gaps."
By going into the home – the environment in which caregivers are actually providing care-the In Home CARE Act would allow providers to be able to better assess the caregiver's specific needs, challenges and abilities and to tailor training, follow up visits and resources to the caregiver and care recipient.
"It is absolutely vital that we provide these selfless individuals with the support they need to effectively care for their loved ones while prioritizing their own health and wellbeing." said Senator Booker.